The Post Local Interest Quiz Part 3: An Uplifting Experience: Answers
Created | Updated Mar 25, 2012
How much did you know about this antique lift? Check the answers below.
The Post Local Interest Quiz Part 3: An Uplifting Experience: Answers
Answers
In what part of the UK would you find this antique lift?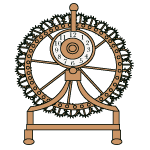 Cornwall.. The lift is found at the Fowey Hotel. That's pronounced 'Foy'. The hotel dates from 1800, but the lift is a recent edition – from 1866.
Can you ride it, or is it just to look at?
You can ride it. Cactuscafe, being brave, rode it a lot. Others in her party were less sanguine. Which just goes to show how adventurous our Researchers are.
What famous author is associated with this region?
Daphne Du Maurier. CC tells us:
Daphne Du Maurier wasn't born in Fowey, she went there for the first time when she was about 18 or so, the family bought a holiday house called Ferryside, where she started to write seriously. Then later she fell in love with Menabilly, the house that inspired Manderley, and rented it for 25 yrs. It is a fascinating story, well documented.

A handsome soldier name of 'Tommy' Browning, sailed romantically into Fowey harbour one day, while Daphne was writing at Ferryside, and she married him three months later.
Note from DG: Cactuscafe is an artist. She's probably less interested than some of the rest of you might be in this information: Daphne Du Maurier's husband, Lieutenant-General Sir Frederick Arthur Montague Browning GCVO, KBE, CB, DSO (1896-1965), was a war hero and deputy commander of Operation Market Garden in the Second World War1. He was also an Olympian (bobsled). Anyway, they both probably rode in that lift, so there's your brush with greatness.
There you have it. If you're booking your next seaside holiday in Cornwall, check it out.
Café Dreams Archive
1In other words, he was there when they went A Bridge Too Far.