The h2g2 poem - Too Long?
Created | Updated Sep 25, 2011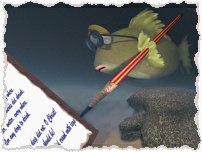 Full disclosure: this poem is too clever for me. When reading it, I am in awe, much like stout Cortez in the poem by the immortal Keats. The immortal sprout has given us much to think on. If you understand this poem (and I'm sure you do, as you are all much cleverer than I), please note your appreciation by commenting below.
Ars gratia artis. (No, Prof, not what you're thinking. It means 'art for art's sake'. Go wash your mind out.)
Too long?
Is cam-Ping Pong (smelly)
From coo-King Kong (hairy)
Worse than un-Cea Sing Song (shanty)
Of Bing (Bong) Crosby? (smoovie)
Ask Grand-ma(h) Jong (Kim-il – scary)
Or the Althing Thong (stretchy)
Offices in Iceland and Hong Kong (handy)
Never knowingly wrong (clearly)
Poetry by Various Contributors