The h2g2 poem - Signfiying Everything
Created | Updated Sep 4, 2011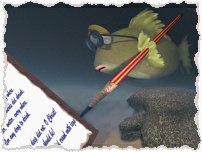 Signifying Everything
Shakespeare means uck all in Hackney,
Where the tragedies are re-enacted every day
As bad boy Romeos take centre stage
Injecting the same poison that's already sent their Juliets
To an unmarked overcrowded grave.
And somewhere in a tower block in Mare Street,
Another adolescent Hamlet sobs a soliloquy.
As his mother shags an uncle in her bedroom
Where the photo of his absent father is displayed.
There's another Desdemona at the doctor's
Seeking comfort in the pages of Hello.
Wearing green eye shadow to camouflage
The evidence of her Othello's rage.
King Lear is feeding pigeons on a park bench,
A senile old boy disconnected with the world.
Disregarded by his daughters who have lost him
In their bitter battle for his right-to-buy.
Macbeth is dodging daggers at the Kings Head.
Drinking to the memory of his dead wife
Who has finally washed her bloody hands of him.
He's interrupted by the barman calling time.
Tomorrow and tomorrow and tomorrow,
Shakespeare means uck all in Hackney.
Poetry by Various Contributors