Sporting with Egon
Created | Updated Mar 19, 2004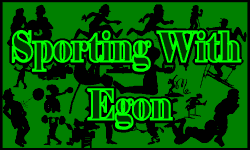 Football morons, Howard Wilkinson, Australian cricket, American sport, Roy
Keane, football internationals and Paula Radcliffe.
SO YOU THOUGHT FOOTBALL HAD
CHANGED?
I know I did. In 10 years of going to Everton matches, I've never experienced trouble, I've never experienced hooliganism. And after the World Cup, English fans were actually congratulated on their good behaviour. This is it, we all thought. English football no longer
strikes fear into the heart of other countries. As long as Millwall don't qualify for Europe, our reputations saved.
Throughout my time writing for the Post, I've written a lot about football, the sport I'm most enthusiastic about. But after the shameful scenes during England's World Cup qualifier against Slovakia in Bratislava, I'm ashamed to call myself an England supporter.
England may have beaten Slovakia, but it was a high price to pay for the destruction of the 'English fans aren't hooligans' myth.
As the English supporters charged across the stands and tried to tear down the barriers separating them from the Slovakian supporters, I hung my head in shame. These are the England supporters who tore up seats in Dublin, killed a policeman in Marseilles and rioted in Charleroi. And yet the FA is defending them. Claiming that the supporters were 'reacting to the heavy handed policing' and 'incensed by the racist abuse'. Now, I cannot
condemn the Slovakian supporters enough for the vile racist abuse they were directing at Emile Heskey and Ashley Cole. But can we really believe that our noble supporters were defending the players from this slight? You know, the same England supporters whose commitment to cultural diversity leads them to boo opponents' national anthems?
It was also suggested by some people that the hooligans masquerading as England football fans were seeking their 'revenge' for the two England fans shot the previous evening. What a load of rubbish. The security guards who shot the bullets which ricocheted and hit the
supporters had been arrested. They weren't at the match, how could vengeance be exacted on those men by charging headlong at the supporters in the stadium. Also, if the behaviour of the morons in question was affected only by events in Bratislava, why were they launching into their traditional brainless chant of 'No surrender to the IRA?'
I also found an article on the Everton FC website regarding a football hooligan named Andy Nicholls, who calls himself an Everton fan, much to the embarrassment of the rest of us. He is planning to write a book to cash in on his career as a Football hooligan, which included a plan to knife Vinnie Jones. Everton FC and Merseyside Police are now investigating him and he will probably be banned for life from Goodison park, and hopefully every other football ground too.
We thought Football was better. We thought it was a family game again.
The vicious b******s who follow the sport I love in order to have as many fights as possible have shown that up for the delusion it is.
CHEER UP SUNDERLAND FANS
As you may have noticed, my most used subheader in the last few weeks has been 'Cheer Up Peter Reid' as I chronicled the demise of my friendly neighbourhood football manager.1
This week I have altered that header slightly, to reflect my deep sympathy towards Sunderland fans regarding the appointment of their new manger Howard Wilkinson. Many newspapers have taken to describing Wilkinson as 'the last English manager to win the championship'. Well, yes, he was, but it was 10 years ago, before the premier league
started, and he had Eric Cantona up front. Peter Reid could probably have won the championship in that situation as well. The point is that in the ten years since the, the only thing Howard Wilkinson has done in terms of football management was, as the FA's Technical Director to sack the immensely successful Peter Taylor as England Under-21 manager, appoint himself in his place, and turn an unbeatable side into one which couldn't win.
My little analysis last week of the main contenders (based on odds from Blue Square), didn't actually feature Howard Wilkinson, due to the fact that his odds were around 66-1.
The only bright point for Sunderland is that Wilkinson's assistant, being groomed as his successor, is Steve Cotterill, a talented young manager who used to be in charge of Stoke. All the locals I know up here are just praying that Wilkinson leaves sooner rather than
later.
CRICKET: Ominous Ashes build-up
While England's 'Star fast bowler' is doing his best to avoid all forms of strenuous exercise, and our 'talented batsman' Graeme Thorpe decided he wouldn't go to Australia after all, thanks very much, Australia were tearing Pakistan apart limb from limb. Australia
scored 310 in their first innings, not a particularly big score, but reasonable. However, they had already bowled Pakistan out for 59, their lowest ever test score and got them all out again for 53 (their new lowest ever test score) in the second innings. Shane Warne in
particular was back to his best. If Australia can carry on playing like this, we may as well give up on the ashes before it starts.
MAJOR LEAGUE BASEBALL:The
play-offs
So, have you been paying attention to my lessons in Baseball over the last couple of weeks? If not, you'd better click on my archive and read the last two week's columns. If you have been paying attention to the baseball, you'll probably be as excited about next week's World Series as I am.
The Anaheim Angels, previously known as the LA Angels and California Angels, have reached their first ever World Series in their 40-year existence, having defeated first the all-conquering New York Yankees and the underrated Minnesota Twins. The Angels clinched their 4-1 victory over the Twins in a sensational seventh inning (of nine, remember?) of game five. As the Angels went to bat in the 7th, they were 5-3 down and it looked like the Twins were going to revive their prospects. But they reckoned without the blitz that gave the
Angels a 10-run inning, and a clinching 13-5 lead. Adam Kennedy was the Angels' star, his 3-run Home Run in the 7th, his third homer of the day, and his team-mate Scott Spezio also had a fantastic game with the bat.
MLB.com reporter Doug Miller summed up the celebrations like this: 'Jackie Autry poured champagne down Troy Percival's pants. Benji Gil poured tequila down David Eckstein's throat. The Angels poured back onto the field after pouring champagne all over themselves. 'That was what it meant to this small-market unfashionable club to reach the world series.
The Angels will meet the San Fransisco Giants in the all-California World Series. Not only is the Series a California derby, it's also the first time ever that two Wild Card teams have met in the World Series.2
The St Louis Cardinals were the side brushed aside by the Giants, who do have the unfair advantage of Barry Bonds and Jeff Kent, two of the Major league's best players. They don't like each other, but they're still pretty darn good. The Cards had a lot of people rooting for them out of sympathy, after their pitcher Drryl Kile died of heart failure earlier this year, and for them to have reached the World Series would have been a good tribute to him, in the same way that Surrey County cricket Club's title this year was a good tribute to the late Ben Hollioake. But it's the Giants v the Angels. A new match-up for World Series play, but it could be a cracker.
CALL THAT FOOTBALL?
This week's guest reporter is Several a.k.a. Random, and where I tend to write an awful lot about proper football, with a round ball, he's offering his views from the other side of the Atlantic on Rugby with padding :
Take one: In the National Football League, which uses a semi-ovoid 'ball' with points on each end that make it bounce funny, a second-year quarterback (QB) who did not play at all last year, led the previously winless St Louis Rams (they used to be the Los Angeles Rams) over the Oakland (they played in LA for a couple o'years) Raiders 28-13... also on Sunday, the football team from Minnesota (Vikings) ended their season-opening four game loss streak, defeating the Detroit Lions, and on the same day, the Minnesota baseball club was wiped out
of their playoff series by the Anaheim Angels, also losing four straight. Anaheim is basically South LA, the team was originally owned by noted movie cowboy Gene Autry, who I personally confuse with television cowboy Roy Rogers. (When his horse, Trigger, died, Roy
had him stuffed, and is on display at the Roy Rogers Museum. At the dedication of Trigger's display, ol'Roy looked at his wife and co-actress Dale Evans, and said, 'Honey, don't get any ideas.')

With the San Francisco Giants competing for the second World Series berth against the Angels, America's sports continent is decidedly taking a jump to the left, and American Sports Fans fear serious tectonic disturbances in the form of earthquakes and mudslides. And fishnet stockings.

Another strange take: The New Jersey Red Dogs were a semi-pro indoor football team, now defunct, bankrupt and normally erased from national consciousness, but two former team-mates have gone onward. Former QB Tommy Maddox led the Pittsburgh Squealers (err, um, it's really Steelers) over the hopeless, pathetic Cincinnati Bungles (err, um, it's really the Bengals), and former Red Dog Michael Lewis (now starring professionally for the N'Awlins (New Orleans) Saints) returned a punt for 83 yards and a touchdown (TD), added a 90-yard kick-off TD return, and caught/ran a 58-yard play to set up a N'Awlins field goal.

Closer to my own personal heart, the beloved Cleveland Browns once again became half-baked Brownies (y'know that gooey stuff when you take 'em out of the oven too early?) in losing to the Tampa Bay Buccaneers. It's pretty awful when I, on my couch watching the
TV, can call out whether it's a run, or whether it's a fake run and throw a short pass before the QB gets killed. take one over and out.
Several has promised to keep me adrift of developments in the NFL for this column, and I'm hoping I can persuade him to give me updates on other US sports as, with the exception of Baseball, I don't understand a bloody one of them.
What should I write about?
If there's a sport you are a fan of, which you don't think I write enough about, leave a message either at the bottom of this article, or on my personal space, and I'll include a little something about it, like I did with Several's 'football' this week.
INTERNATIONAL FOOTBALL
ROUND-UP
Apologies to those readers from outside the UK and Ireland, but I've got quite a packed column, so only the home countries get a mention this week3.
ENGLAND:Saturday - edged an unconvincing 2-1 victory over Slovakia thanks to two goals from Michael Owen.
Wednesday - Draw 2-2 with the Former Yugoslav Republic of Macedonia. And both England's goals came from midfielders- David Beckham and Steven Gerrard. Shocking result
SCOTLAND:Saturday - beat Iceland 2-0, as Everton's Gary Naysmith scored his first international goal, which was also his first ever with his right foot.
Tuesday - Came from a goal behind to win 3-1 against a rapidly improving Canadian side.
WALES:Wednesday - Beat Italy 2-1. That is, Wales beat Italy 2-1, with goals by Simon Davies and Craig Bellamy. I shall bring more attention to this astounding result next week, when I am less intoxicated from trying to forget England's appalling performance. CONGRATULATIONS WALES!
NORTHERN IRELAND:Saturday - lost 3-0 to Spain, never really looked in contention.
Wednesday - Held Ukraine to a 0-0 draw - despite dominating throughout the match.
REPUBLIC OF IRELAND:Wednesday - Lost 2-1 to Switzerland. Oh well.
MARATHON WOMAN
For years, Paula Radcliffe was one of the most celebrated losers in sport. She would always run her heart out for 5 or 10,000 metres, but get overtaken by the Ethiopians on the last lap. This year she's finally come good, winning the Commonwealth Games, European Championships and London Marathon. On Sunday she won the Chicago marathon, and broke the World Record in the process. She has always been a strong anti-drugs campaigner and insists on giving urine and blood samples after every race. Yet some people seek to blame Radcliffe's improvement on drugs, and to suggest that her anti-drugs stance is a facade to hide her shameful truth.
I don't believe that for a second. What has happened to Paula Radcliffe is that she's finally got her balance right. She was always good at cross-country, and now she's doing it on the track and in marathons. Her tactics are right, her training's right, and now, rather than just be a popular hard-working loser, she is beginning to reap what she sows. When the BBC Sports Personality of the Year is voted for later this year I, for one, will be casting my vote for Paula Radcliffe.
FA NOT KEANE ABOUT ROY
Back at the beginning of September I reflected on the sterling work Roy Keane was doing in the fields of violence and idiocy (check the archives) and he would appear to have got his come-uppance at last.
Mr Keane, that kind, gentle, fellow who captains Manchester United, has been banned for 5 matches and fined £150,000 4after his 'autobiography' contained an account of how he 'intended' to injure Alf-Inge Haaland when he fouled him in the Manchester derby about 18 months ago (or thereabouts) and Halland hasn't started a match since. Keane has 14 days to appeal, and
his ban will start on the day he was expected to return from injury. I am pleased that Keane has been banned as he is bringing the game into disrepute by advocating violence. Some claim that he is being punished a second time for the same offence, but he isn't, because it could previously have been argued that the foul was unintentional. And to brag about it in a best-selling book is merely cashing in on Halland's misfortune.
I remember Manchester United fans claiming that Eric Cantona shouldn't have been punished by the courts when he kung-fu kicked a Crystal Palace fan, as he already had a nine-month ban from football. What the ignorant supporters in question were forgetting was that the FA were punishing him for misconduct, while the court were punishing him for a criminal offence. The fans even complained that the judge who sentenced him 'knew nothing about football'. So what? It wasn't about football, it was about assault. Everton's Duncan Ferguson was sentenced to three months in jail and banned from football for 12 games when he head butted an opponent. Everton fans were aggrieved but didn't complain too much as, unlike Manchester United supporters, we accept that when our players misbehave they should face the consequences. Manchester United players, supporters and staff don't seem to realise that.
1Although I am a huge Everton fan, I am at university in Sunderland
2Don't know what the Wild Card is? Back to the
Archive...
3
But as a resident of Holland I'll just point out their 3-0 win over Austria... ed
4Almost two week's wages for him!