Psycho Chicken Crosses the Road
Created | Updated Sep 22, 2003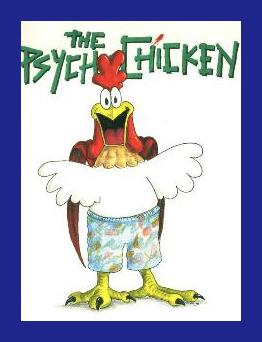 I've been to Boston before. Once. For a weekend. The unfortunate thing is that I drank so much that I have very patchy memories of the nights, and the days were spent in a hungover haze. Hardly the best way to see what is almost certainly the most beautiful city in America. So, I pledged when I left that time that one day I would return, and experience Boston properly. I kept my word.
Thursday
Our flights to Boston were via Dublin around lunchtime on Thursday, so with the wonder of time difference getting us to our destination with plenty of time to seek out a decent dinner and a few beers that night. I say 'were' because on Thursday Aer Lingus went on strike.
Enter American Airlines, to save the day!! We are re-routed through London (beggars can't be choosers), but we should still get there before closing time. Unfortunately we need to get to the airport by 5am to get the tickets changed. British Airways (in a rare but fortunate bout of good customer service) got us as far as London, where AA's staff got us on a flight to New York, and onwards to Boston via Elastic-Band Airways.
My plans to catch a baseball game at the world famous Fenway Park were foiled at an early stage, when about 2 minutes into my investigations on the web I discovered that they were, in fact, playing away the weekend we were due to be there. I had accepted this, until during the brief transit from International to Domestic in JFK airport I spoke to an airport cop at a security point:
COP: (in an accent straight out of Taxi Driver) 'You guys are goin' up to Boston, huh?'
ME: 'Yep, just for the weekend.'
COP: (without looking up from my boarding card) 'You gonna catch a game or somethin?'
ME: 'I'd love to but the Sox are playing away this weekend.'
COP: 'Ah, shoot. You know where they're playin?'
ME: 'No, but it's not at Fenway, that's for sure!'
COP: (hands back documents) 'Right here in New York, that's where!! Ha-ha!'
ME: 'Thanks for that.'
COP: 'You're welcome - enjoy Boston... ha ha!
NOW I'm pissed off at missing the Sox...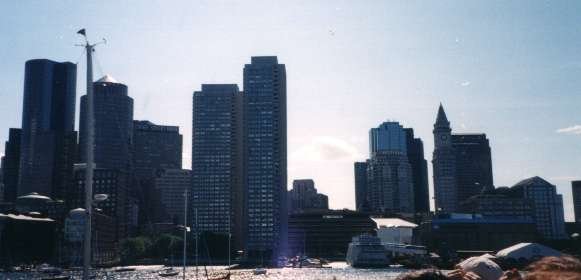 When we arrived in Boston, we elected to take a cab to the hotel, rather than use the underground (known as the 'T' - if Chicago can have the 'el' then Boston can have the 'T'). This was probably a mistake, as the city of Boston is currently the biggest building site in the USA. I remember from last time that there was what the locals affectionately refer to as 'The Big Dig' going on which, from what I can work out, is a hugely ambitious, but very admirable plan to bury the city's arterial roads in an effort to remove congestion. I had, however, hoped that nearly two years later it'd be finished, but to be honest it doesn't seem to have moved on at all. To get from the main downtown/Boston Common area to the North End still involves crossing a building site, passing under an old road, and over a new one, all at the same time. At any point you suspect that a large construction vehicle could fall on your head and crush you flat, or bury you under a huge quantity of asphalt, turning you into a speed bump forever. I did notice however, that there seems to be something of a protest movement going on from the odd poster up around the place with slogans like 'Tired of the Big Dig...? call 555...' and other very polite protest messages. Hardly going to scare the authorities that way, are they?
Our Hotel was covered from roof to ground by tarpaulin. Which is a pity because if the interior and the pictures I saw were anything to go by, it was quite a landmark in its time. The Lenox is apparently 100 years old and the 100th anniversary obviously seemed like a good excuse to get the brickies in and restore the Lenox to her former splendour. It was also probably what triggered the special offers that enabled Dougie and I to stay there, as they were boasting recent guests such as John Travolta and Kevin Spacey among their regulars.
A quick flick through the guidebook revealed that we were in the fairly upmarket area of Back Bay (which resembled Dowanhill more than it did anywhere else in the US frankly) but there were a few bars and cafés where we wouldn't get ripped off. One of which was Daisy Buchanan's.
Daisy's is a traditional, basement level American city centre bar. There's no lounge, but there is a long, bar-height table in the middle of the room at which you can sit or stand as if you were at the bar itself. TVs suspended in each corner show assorted sporting events and news; the jukebox bears an un-nerving similarity to Dougie's record collection, and to the sounds of 'Angry Young Man' by Billy Joel, and the sights of the Pawsox playing ball, we had our first beer in Boston. This is what it's about.