Reading 2002
Created | Updated Feb 24, 2003
11th May 2002 and it was time for another Hootoo meet up.
This time it was to be in Reading in Berkshire which, for those like myself who
have no idea of English geography, is just outside of Nodnol in a sort
of nine, ten o'clock-ish direction.
Much thought was put into arrangements for meeting and it was agreed
that Bluebottle would meet a group in the train station at quarter to
one. Hence myself and Toccata arrived at twenty to one and joined Bald
Bloke for a bacon roll while we waited. People trickled in over the
next half an hour or so before we finally moved off. The plan was to
move to the park to meet the rest and play rounders. Hence, at the
request of Pastey, who was getting bored, we went to the pub while The
Fish raced around town trying to find people. It was at this point
that Uncle Heavy confessed he had made a mistake over his train fare
and, as such, would be unable to drink due to only having a fiver.
After a pint or two it was finally felt that everyone had arrived so
we departed for the park.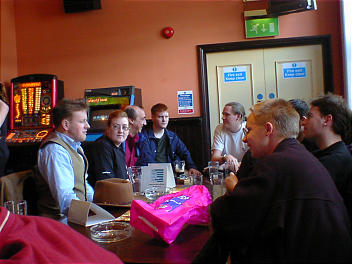 We trogged off to the park and strategically placed coats on the
ground as bases, making me feel like I was back in primary school, and
hence unpickable. However we were split into two teams and, after some
discussions as to which rules we fancied playing under, Pastey, as
Umpire, started the game off. It was highly enjoyable, extremely
tiring and finally ended with Team A routed by the valiant Team B.
We then headed into town to find a pub, collecting Ming Mang and her
mum on the way. Pastey, always a man to be trusted in these
circumstances, led a small contingent into the fine real ale pub
Hobgoblin while the rest headed off to see Peregrin and Tinkerbell off
to Wales. A couple of pints were sunk, Uncle Heavy continued to point
out that he only had a fiver (most of which he had now drunk) and I
was nearly thrown out for using my mobile phone to check up on the
goings on at the Edinburgh meet.
Eventually we decided it was time to move on and so arrived at the
Hogshead, scarily enough at just the same time as the other section of
the group. So tables were circled, food was consumed and Uncle Heavy
used up the last of his money on some chips. After food The Fish,
Pastey and Uncle Heavy wrote a quick quiz on the works of DNA and the
site. This was won by the team of Bald Bloke, Toccata, Pastey's wife,
Anne, and myself as lowly note taker.
From there we all drank more, (even Uncle Heavy strangely) many poses
were struck for photos, Two paper Amys, Lighthouse Girl, Greydesk and
Dr St Justin of the Sidies O' Doom joined us and sadly Prof Tonks
and Ming Mang left us early.
Sadly, but inevitably, the time for leaving arrived and Uncle Heavy
was 'aided' back to the train station and rather evilly left on the
platform for his train. Another great meet up, possibly a bit too much
of that exercise thing for my liking, and many a fine photo. Roll on
the South West one hopefully.