The h2g2 Wilde Awards
Created | Updated Apr 10, 2002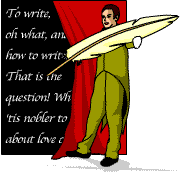 The h2g2 Wilde awards are awarded by the Academy of Wit and Eloquence (AWE) to members of the h2g2 community in recognition of outstanding service to the English language, though wit, word play, or a particularly apt, imaginative, or fitting turn of phrase during conversations or entries on h2g2. They are to reward verbal dexterity, rapier wit, or just a delicious turn of phrase!
The awards are named after Oscar Wilde, Irish novelist, playwright and wit. I was going to call these the 'Oscars', but I'm told that that name is already gone :-)
Rules for awards
The nominated phrase must be original, or used in an original way.
The phrase must not have been used in a blatant or transparent attempt to get nominated.
Phrases which are used to insult, belittle, or humiliate others are not eligible.
Attacks on (or criticisms of) ideas or points of view, however, are eligible.
The Award Process
A piece of wit is nominated by a member of the Academy
The researcher is approached, and asked if he or she wishes to accept the nomination.
The merits of the phrase are discussed by creating a forum at The H2G2 Wilde Awards page, and the members of the academy decide whether to make an award or not. The standard will be high, so being nominated at all must be considered a great honour
Those nominated for a Wilde award shall receive the following
The right to use the phrase 'Wilde Award Nominee' or 'AWE - WAn!' in his or her title
A listing on the Wilde Roll of Honour, with a link to the winning phrase
An invitation to join the academy
Those who win a Wilde Award
They shall also receive the right to use the phrase 'Wilde Award Winner' or 'AWE - WAWi' in his or her title

In the future, I hope to be able to offer a picture for the Researcher's homepage.
This is how I'd like to run this page, but I'm open to suggestions!
Members of the Academy of Wit and Eloquence
Academy members are either previous award winners, or have been invited, as above, and are charged with the duty of seeking out shining examples of wit and eloquence. If you would like to become a member of the academy, please post to the Academy nomination list below and subscribe to the conversations on this page.
Current members of the Academy are:
Academy of Wit and Eloquence Roll of Honour
Wilde Award Winners
The first Wilde Award Winner is U146988, for the coining of the phrase 'social chicken' to describe the process of whether or not to contact old friends whom you haven't been in touch with for ages, or to wait for them to contact you. To see the phrase in its natural habitat, click here and scroll down to post 6.
The second Wilde Award Winner is U104826, for responding to a question about how we know other researchers exist (rather than being, say, AI scripts) by claiming to be 'a series of hyper lucky monkeys who writes coherent articles'. This article combines genuine wit with a Hitchhiker's reference, and is thus a worthy winner. Click
here and scroll down to post 39.
Please visit The H2G2 Wilde Awards for nominations and more information.