The Frankie Roberto Interview
Created | Updated Feb 3, 2004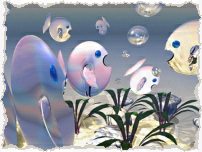 Frankie meets... Richard Creasey
Richard Creasey
on the origins of h2g2, the 'Overland Challenge' and his father John Creasey.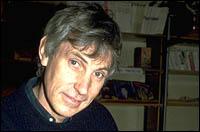 For this special edition of the 'Frankie Roberto Interviews', I talk to one of the founding fathers of h2g2, the amazing Richard Creasey.
Richard's relationship with Douglas Adams began during an Edinburgh
Television Festival. Richard had been producing lots of television
documentaries and Douglas Adams was always keen on media and technology. In front of an audience at the festival they discussed the possibilities for the future of television.
One of television's big disadvantages is the fact that it has to be watched. I've always found it difficult to sit down at the right time in the right frame of mind to watch a documentary scheduled to fit in after a comedy and before the news.
Despite Richard's argument, I'm not convinced that this is the biggest flaw in television media. I like the variety, the mixed scheduling. It's something that's lost amongst the 24-hour history, or nature, or sci-fi channels that Sky and the like have to offer. It is annoying to have to time your life to the TV schedules though, and this is one of the problems Richard hits on.
I miss the start, get up for a cup of coffee and generally
do a big disservice to the director. Compare that to the ease of clicking on to a site about the Amazon Rain forest wherever and whenever you please.
' There are only so many great creators and
journalists out there with commissions...'
Richard goes on to tell me how he and Douglas also discussed the
limitations of top-down media, consumed passively by the watcher, listener or reader.
I wouldn't argue that the time has come to stop top-down media,
but there are only so many great creators and journalists out there with
commissions.
This thinking led the pair down the path of setting up a form
of media where any one could create content, and be part of the creative
process. Here was the foundation behind h2g2. Along with Robbie Stamp,
Richard Creasey and Douglas Adams co-founded 'The Digital Village' (TDV). This company would operate as a 'digital media company', developing content across many new digital platforms.
Of course, it didn't work out like that. As soon as TDV was created, in came a commission to do a CD-ROM game. Lots of cash on the table, so we took it and got diverted for a while.
The game they created was called 'Starship Titanic'; a PC adventure came which started with a spaceship crashing into your bedroom. I bought the game (second hand, it must be said), and quite enjoyed exploring the world of zany robots and strange machines. It was
pretty difficult though, at least it was for me, and I got stuck trying to figure out how I could throw a television down the well (answers on a
postcard please.). Richard's role in the creation of the game was not that large.
' I was fascinated by Douglas's huge energy and
enthusiasm'
I'm not a gamer, so I was more of an onlooker manager than anything else. I never got very far except where I was guided through it.
I had a similar experience. As a game, Starship Titanic wasn't all that special. It's main value came from the storytelling elements and special brand of Douglas humour.
I was fascinated by Douglas's huge energy and enthusiasm,
which complicated the game no end, yet so nearly turned it into a cult game.
Looking back, you can see now how the game was, in a way, part of Douglas's obsession with exploring the use of technology to change the structure of traditional media. Starship Titanic was in many ways a complete novel that had been made 'interactive'. In fact, this idea started even earlier back when Douglas created the Hitchhiker's Guide to the Galaxy text adventure game. Alongside the Starship Titanic CD-ROM game also came an interactive website where users would become part of the Starship Titanic world, chatting to each other and creating their own stories. Sound familiar?
' I had worried that researchers would see
themselves as alternative Arthur Dents, living in a fictitious
world.'
As Starship Titanic was ending, however, Disney came along with an offer to turn the Hitchhiker's Guide to the Galaxy into a movie, fulfilling one of Douglas's great dreams. So Douglas moved to the states just as h2g2 was starting. It would be wrong to say that Douglas was ever heavily involved in h2g2. All the glory for how good it is should go to Mark Moxon, Jim Lynn and their teams. He was clearly the inspiration behind it though, and always will be.
The h2g2 site has often been described as an 'evolving' community. I ask Richard if the way it has changed and progressed has surprised him in any way.
Yes, in a really good way. I had worried that researchers would see themselves as alternative Arthur Dents, living in a fictitious world. Indeed it started that way, but h2g2 quickly moved to the real world which is where Douglas always wanted it.
The difference between the fantasy and the 'real' sides of h2g2 is something I've often discussed in my interviews. I've found that both aspects of h2g2, from the wide depths of the Thingite lair to the seriousness of Peer Review, can be equally rewarding, though the fantasy forums do wear me out sometimes.
' I'd argue the only way to change the world is bit by bit.'
The h2g2 team have been busy working behind the scenes recently, creating a new version of the site. I've been lucky enough to be beta testing the new 'DNA' (named after Douglas Noel Adams) version of h2g2, soon to go live. One of the most significant features of the new technology is that other BBC sites will be able to use the h2g2 back-end. I wonder if this will mean that in the future h2g2 will only be a subsection of a wider BBCi community, h2g2 just being one which is interested in writing and Douglas Adams.
That is certainly what we planned from the start. The primary role of h2g2 will be to increase the number of entries in their magnificent eclectic guide to Life, the Universe and Everything, appealing mostly to those who enjoy writing. The DNA technology will allow lots of communities with different interests to emerge. '360' is one of those.
360 is the name of a new project which Richard Creasey will be leading, an ambitious plan to develop a weekly television programme and community website. It will be the first new site to use the DNA technology.
360 is the logical progression from h2g2. Instead of Researchers writing entries for h2g2's Edited Guide, they're searching for stories about the hundreds of thousands of unsung heroes who are out there right now trying to help 'change the world by degrees'. It's potentially very important, because telling stories leads to inspiring others to do something similar.
At the heart of the 360 project proposals seem to be this ideology of
'changing the world by degrees', the idea that the way to change is through a collection of small, individual acts. Something inside me doubts this idea of breaking the mould from the inside, and I wonder if something more fundamental needs to happen. This goes against the idea Richard presents.
' The back of Dad's Grand Car became our classroom and my Mum our teacher.'
I'd argue the only way to change the world is bit by bit. Hundreds of thousands of people, unsung heroes in every corner of the world are out there helping to change the world right now.
Part of 360's grand plan is to use microlight aircraft to fly to far-flung areas of the world, reporting on the stories and filming from high in the air. If nothing else, this sounds like a great adventure, and the investigator and their pilot are bound to have great fun. Richard is no stranger to adventure, one of his previous projects includes the 'London to New York Overland Challenge', in which he 'drove' through the channel tunnel and over some very tough terrain through difficult conditions. Part of Richard's love for travel comes from the influence of his father, the prolific novelist John Creasey.
Dad wanted to become an international writer. He arrived back home from a trip to New York to tell my mum that on the ship home he had decided to sell the house and use the money to go on an eighteen-month world tour ending up in New York. Mum was appalled, but three months later the house was sold and we were all on our way to New York via South Africa, Pakistan and India, Australia and New Zealand. For my brother and I the back of Dad's Grand Car became our classroom and my Mum our teacher.
The experience sounds like a wonderful one. Richard was clearly very
influenced by his father, and he has even written a collection of entries on him for h2g2 as a University Project. Being son to such an inspirational character must have had quite an effect on Richard.
Dad made a huge impression on me. He was living proof that as long as you really want something you can do it. The trick is realising that if it's something you can't achieve, you can't really want it. Dad really wanted to be a writer, and despite seven hundred and twenty rejection letters went on to become one of the most published writers in the world.
This fact is certainly quite inspirational, and John Creasey's
achievements have clearly helped to make Richard as ambitious and determined as he is. I'm certainly looking forward to seeing how 360 develops, and wish Richard and his teams all the best with it.
Subscribe
to this series of Interviews and be notified when each interview is
published!

The Frankie Roberto Interview index
page.