The h2g2 Poem: The Annual Innuendo Show
Created | Updated May 2, 2010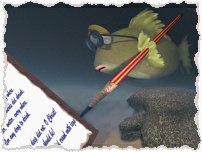 The Annual Innuendo Show
Rumour has it that the farmer got his oats

Last night, and Dave the baker had a leek

Outside his back door.

Clare is believed to have

A nice pair of melons

That all would love to see.
Old Mike, although botrytis has struck

His bottom bunch, still expects

His offering to stand up to scrutiny.

Mrs Brown has waxed lyrical

Over husband Geoff's enormous cucumber.

She's the envy of her friends.
And in Keatsian mist and fruitful mellowness,

In every shire the dalesfolk gather

For the annual innuendo show.

And children wait the judging

Of their deformed vegetables

All in the shape of Esther Rantzen's teeth.
While the vicar calls for more tea

And quite fancies a tart.



Poetry by Various Contributors Archive