A Life on the Ocean Wave: Corrections
Created | Updated Apr 18, 2010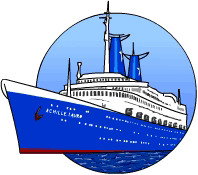 Hello. My name is Emma and I go on cruises. Mostly, so far on P&O ships out of Southampton, but other perfectly good cruise companies are available. ;-) When I can, I con my parents into paying for my ticket.

When I travel, I blog. If you would like to read it all, it can be found at my PS. The Post have asked me to proffer some edited highlights of my ramblings, which I shall now inflict on you forthwith. Enjoy.

Corrections - both textual and financial

Correction: The quotation should have been "Don't eat muffins while I'm DEVELOPING you", not "improving you". I apologise. Evan really is a wonderfully creepy character. For those of you who are not familiar with Black Books, the episode in question is Manny Come Home. Never mind Bill Bailey and Dylan Moran, Simon Pegg completely steals the episode.
Like I said, we get a lot of repeats...
We are now at GMT +6 and we're going to lose another hour tonight and another hour tomorrow night. By the time we get to Kuala Lumpur on Sunday, we'll be at GMT+8, but what our body clocks will be telling us is anybody's guess.
Today has been mostly windy. We have travelled down the side of Sri Lanka and have just crossed along the bottom of the island (we're heading east, remember). The Navigation Channel on the telly still says it's only force 4 outside, but, trust me, it's more than that up on deck. Anything not pinned down goes flying. It's warm and sunny, blisteringly so out of the wind (well over 80 in the shade – the pool is 82 degrees and is considered blessedly cool relief), but the wind is very refreshing. I figured if I didn't get sunburn, I'd at least get wind burn! I sat outside with my new mates, Zoe, Sally and Vicky and while they dipped in and out of the pool, I failed to finish both today's crossword and sudoku in the ship's daily paper. Huzzah for me, the high achiever.
I still have no appetite whatsoever. Maybe it's the heat, maybe it's the constant time zone shifts, maybe it's a bit of both, but three halves of avocado and a bread roll shouldn't leave me full to the point of nausea. It's weird. And a bit tiresome. I'm basically only eating because I think I should, rather than because I want to. If I only ate when I felt hungry, I wouldn't have eaten anything solid in nearly two weeks, which isn't healthy, however much weight you'd like to lose.
I have now finished reading As Used On The Famous Nelson Mandela (thank you, James), a very funny exposé of British Government complicity in, and subsidisation of, the arms trade, and have now started Psycho Too - the second book of collected articles on psycho-geography by Will Self, illustrated by none other than Ralph Steadman, which the fascinating Mr Self signed for me personally at Cheltenham this year. How was I to know that the first 73 pages were about Dubai?! Unsurprisingly, he sees the place as I do – as a folly of monumental proportions – and he was writing this a year ago. Look at the place now! Debts being paid by neighbouring countries, just as un-recession-proof as everywhere else, if not more so. I didn't know, however, that Hamid Karzai (the president of Afghanistan) has an apartment on the Palm, directly opposite Kieron Dyer (the footballer).
You live and you learn. Every day is a school day, and all that. Watched a thing on CNN today, funnily enough, asking where all the aid money has gone in Afghanistan, because it sure as heck hasn't got to the people or the infrastructure or the schools or the anything else for that matter. Gee, I wonder where it could have gone...
Tomorrow is another sea day (we don't get to land until Sunday), but it's a hellishly busy one. There's a barbecue lunch on deck (unfortunately accompanied by the worst musical performers on the ship, but, hey, can't have everything). This is noon till 2pm. Then at three there is a free class on how to use Picasa to edit photos, which I'd quite like to go to. Trouble is, Spanish is at 3.30pm. Even more unfortunately, there is a talk by an author on how to become an author at 3.15pm. Something's got to give...

Then, after I've sorted that lot out and attended whichever one wins, there's the Wii session at 4pm til 5pm. The Wiis (see that? Plural. Wiis. Several of. I think there are four) are located in the kids' area (they have their own suite of rooms for their entertainment purposes), so the adults are only allowed in at certain times, when the kids are elsewhere. It's all very CRB and CCTV and all sorts. Then at five, it's time to meet some friends for a glass of appalling wine and some badly made bread... it's Friday night, you fill in the blanks. THEN it's a formal night, so have to get changed and togged up in the finery and maybe have a picture taken. First sitting dinner is 6.30pm till 8pm. THEN there's a quiz at 9.30pm in the nightclub, followed by the nightclubby bit till the early hours. But THIS clashes with karaoke in the pub at 10.30pm till "late".





So whilst I may mock those who lie on sun loungers wondering what to wear, I must confess that I do envy them their leisure time!


A Life on the Ocean Wave Archive