The Cathouse
Created | Updated Apr 18, 2002

H2G2 needs a cathouse.

I said:
H2G2 needs a cathouse.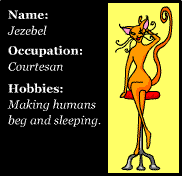 For some reason I feel eminently qualified to run one













However, I have no idea how to go about building it.






SO . . .
For the time being I'm setting aside this space, for construction.




Any architects, builders, decorators, or cats who wish to offer assistance will be gratefully supplied with

,

or bowls of cream, and cushions in the sun.