This Sporting Life
Created | Updated Jun 22, 2003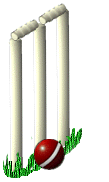 The Nat West Series
I could spend this week's article moaning about England's apparent lack of ability to force home an advantage, which has led to some unlucky and some very disappointing results. But I won't. It is too depressing. Instead I am going to look at the increasingly vexed issue of crowd and player safety, a subject that over the last week rarely seems to out of Cricket's headlines. The Nat West triangular tournament between England, Pakistan and Australia has been completely overshadowed by recent events.
I applaud Steve Waugh's decision to lead his players off the field of
play yesterday, after an incident that saw a fire cracker thrown at Brett
Lee. I can't think of any one I know who wasn't shocked at the pitch
invasion that took place during England's match against Pakistan on Sunday
night. Pakistan were obviously heading for victory, but the match was not
yet won and the resulting chaos saw one steward having to be stretchered
off. Alec Stewart conceded the match on the basis that the players' safety
could not be guaranteed. Edgbaston also saw scenes of disorder. What I find
most interesting is that I have not heard Waqar Younis, the Pakistani
captain, condemn the actions of the fans. I could be wrong and I would be
delighted if someone would correct me on this point. Indeed when I heard
him on the radio this morning, he was praising the 'support' of the fans.
Well I am sorry Waqar, but a little condemnation here would go a long way.
I suppose the sad fact is the over-zealous nature of cricket following in
Pakistan means that players who fail to perform quickly or are critical
become objects of national hatred. So we are unlikely to hear much
criticism of the behaviour of a small minority of fans.
What is so sad is that Pakistan are followed by controversy whether they
go and their good solid cricketing performances tend to be overshadowed by
claims of match fixing, ball tampering and over aggressive barracking.
Their 36 run victory over Australia, who are the current World Champions,
should be applauded. But this morning that is the last thing on most
people's mind. Incidentally, it was not only the players who were put in
danger yesterday. There are reports, though unconfirmed, that a child had
to be treated by paramedics after being hit by a firework.
So we are faced with the very sad prospect of England Test grounds
looking like a warzone. High fencing, snarling dogs and stewards more used
to guarding the doors of London pubs don't really fit the civilised image of
cricket, now do they? As with so much crowd violence in sport, I refuse to
believe that the majority of fans go there to partake in this sort of
behaviour. The saddest thing about it is that parents will think twice about
taking their children to cricket and other sporting events, denying them
what for many kids is the start of a life long passion. So many people can
remember the first football, cricket match or horse race they
attended1. Richard
Caborn, the new Minister for Sport, has quickly jumped on the bandwagon but
cannot guarantee any legislation to cope with the problem. I note that the
ICC has asked all member countries to report in with full details of how
they currently contain and control crowds. I am led to believe that heading
onto the pitch during play in Australia results in a fine of $1,000 dollars,
a night in the cells and a quick trip to the magistrates in the morning.
Funnily enough, they don't have many pitch invasions in Australia.
Abi... Post Ashes Correspondant.
1I chose to include horse racing because my first sporting
event was at Lingfield Racecourse to watch my Father's horse run. I was the
tender age of two but can remember everything clearly.