Writing for the Post
Created | Updated Apr 21, 2002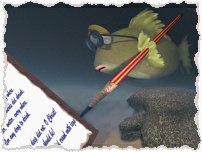 How to Make a Name for Yourself
Many researchers around h2g2 are under the misapprehension that writing for The Post is an elitist occupation. Of course, we have our regular contributors who valiantly come up with a column week after week and without whom this rag would probably fold. But we also welcome occasional articles from anyone else too!
Of course, we always welcome new writers who have an idea for a regular slot, whether weekly or monthly but, above all, we are keen for more of the one-off scribblings of you the reader.
Did you know, for example, that The Post can be a good place to try out your proposed Guide entries? Not only will your spelling and syntax be checked for you, but also that awkward coding that might elude you can be added. We would only ask that the piece is complete and that your facts are accurate. You may have an idea, but not be sure how to proceed... publish your thoughts and ask for help.
Many experiences in everyday life are not always appropriate for inclusion in the Guide... there is that rider that writing should not include many, if any, 'I's. So, a story about your child's fun and games when first trying to ride a bike without stabilisers, the experience of a tricky job interview or a heartfelt item about problems in another country may well not travel any further than your 'My Space' journal.
Talking of travel, have you been somewhere different connected to your job, attended a concert, cheered at a sports event or just taken a holiday recently? Share your experiences... and your photographs... with the community. The Post is more then happy to include these as part of the rich tapestry of life.
Then... all those clubs, societies, appreciation pages, inter-active quizzes and adventures, polls, votes, drinking dens! To thrive they need visitors and how better to attract visitors then to let people know about them from here?
Poetry is big on our hit list. We already feature Vogon poetry from Hullabaloo but would also welcome your poems, prose, limericks1 or any other form of versifying.
If, on your journey around h2g2, you spot something which you think would be suitable as a Post item, then drop by the Office and alert the staff. They will check it out and ask the owner for permission to use it. Maybe you know someone who likes to write poetry, stories, limericks, lyrics... all these are most welcome.
Contributing to The Post is easy. You either pop a message in at The Post Office2 or contact shazz at her email address. You should receive a pretty fast response when you will be told that your suggestion is under review, and then you will later have confirmation of the article being included and where you can read it. The preferred format would be as a text file, although we are happy to *lift* writings from pages if that is easier for you.
Obviously The Post is bound by the same rules as the rest of h2g2, so we ask that you try not to include anything which may be unsuitable.
1Provided they aren't too explicit of course!
2The link for this is always at the bottom of every Front Page.