The Mark Moxon Fanclub
Created | Updated Jun 22, 2003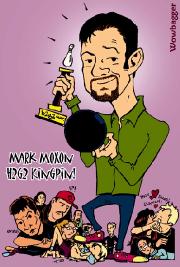 I received an email this week from someone who obviously appreciates all the hard work put in by one of The Towers Crew.
I would like to discuss with you an article for your newspaper. You are probably not aware that a Mark Moxon fan club has opened and a site has been launched in Mr Moxon's favour. If you could write an article on how wonderful Mark is then maybe we could get more publicity for the Offical fan club.

Mark Moxon has done a lot of good work for this community and it's about time we gave something back. A link to the Fan club's home page is in my personal space.

If you could also put a plea to the public. If you could ask that anyone who supports Mr Moxon puts the initials OMFC (Official Moxon Fan Club) at the end of their name. Thank you for your time, and hope you have the time to come and see our site and maybe support Mark Moxon.

Also, if you have any quotes you wish to say about Mark then your comment will get posted on the web site.

Thank you once again,
Lord Preston OMFC
How could I possibly refuse this heartfelt plea!

I first encountered Mark when I signed up for h2g2. I was unsure about posting on site, unsure about netiquette and definitely unsure whether I had anything worthwhile to contribute. This was in the bad old days before the Aces were formed. I seem to remember emailing him a few times and he always replied with courtesy and patience until he finally told me to just 'get out there and do it!'
That was just the push I needed.

Since then, I have met Mark on quite a few occasions. The first time was the December '99 Meet and the latest was when I recently dropped by Bush House to check out the new offices. The greatest fun we had must have been when he came to Holland for the Dutch Meet along with Peta, Abi and Ormondroyd. This was followed up by the h2g2 Christmas Community Social, where, yet again, Mark displayed a wonderful sense of fun and a good capacity for drinking beer.
I am most certainly looking forward to seeing him again, along with all the other h2g2ers, at the next meet in July1!
So, why not drop along to The Official Mark Moxon Fanclub site and register your appreciation?
1See the Announcements for news of this event.