Come to Church?
Created | Updated Jun 20, 2003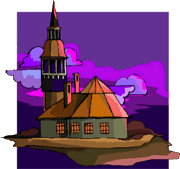 Feeling lost and hungry in that big world? Well there is a place that you will be able to 'find yourself' and grab a snack too. We welcome you to the Church of the True Brownie. You can come in and have some chocolate goodness and save your immortal soul. If you have tried other churches and do not like the clothes they make you wear, or the electric shock treatments you undergo this is the place for you.
We follow Ten Suggestions

There should not be any Blonde Brownies.
There can be nuts in and on your Brownie.
You should put chocolate sprinkles on your Brownie.
Share and Enjoy.
Respect all Brownies, as they are good for nutrition and well being.
Please try not to add ingredients that detract from the unadulterated goodness of the
Brownie.
Frosting, good. Nuff said.
Fruit is not recommended.
Beer, while usually good, does not go well with the Brownies.
Try not to swim right after consuming Brownies.
No iron clad rules to bind you with. We are very flexible. Your tithes can be paid in those inexpensive

that we all have plenty of. Located just around the corner at CotTB you are a quick hop away from the church. We eagerly await your visit.