The Crossed Purposes Pub
Created | Updated Jan 28, 2002

Welcome to Crossed Purposes - the Village de la Vavoom Pub!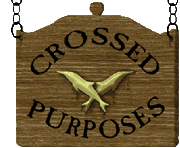 This wonderful sign above (thanks to Titania and Ottox, I have it back!) was created by Asteroid Lil and it's at this place only, because Amy the Ant was so kind and helped me to place it here. Thank you both, Lil and Amy! You are always most welcome to The Crossed Purposes and please note, that you are always guests of the house - drinks and food for free.
I'm Kasia, the landlady and these are my friends, who help to run this pub: Mina and Arutha, the barman.
We are serving all sorts of drinks and food, specialities of the place: an original German Weissbier and there is a bright choise of european cuisine. In future a menu will be placed here.
After entering you can see a most well-appointed Commons Room, in marble and ebony, with a stone-tiled floor of such. Some very beautiful persian kilims are disposed here and there, and a bar, appearing to be of the finest oak runs along one side. Ebony tables and chairs are places here and there, and there is an area containing something rather unusual, but fun, in that it contains bean-bags for lounging.
The Hearth area consists of two large fireplaces, one which contains groupings of armchairs and comfty couches about it for guests, the other is reserved for the dignitaries of Village de la Vavoom.
On the far wall, leading up to the billiards-room is a staircase, going to some guestrooms, and near its base, a door leading to the office, and beside it, the door leading to the powder rooms.
Leading to the back at one end of the bar, the door to the kitchens.
Please, be our guests and do not hesitate to tell us your wishes.
Click to see this page in Goo!