The Student Union Bar
Created | Updated Nov 16, 2004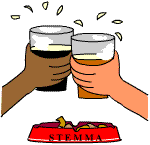 Welcome to the Student Bar of the University of Life, where the talk, like the beer, is cheap.
Why not meet fellow Field Researchers and relax after a hard day in your department? Or liven up an afternoon's research by having a quick liquid lunch?
Your smooth talking student barman awaits your order!