German Christmas Markets
Created | Updated Dec 9, 2004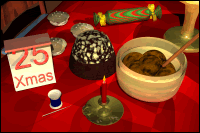 Do you hate Christmas? Imagine living in Germany then. Most of our traditions come from there, where Christmas is taken very seriously indeed. However, because I don't live in German, this week we're focussing on just one aspect of German Christmas culture - the Christmas market.
During the Christmas period, there is nothing quite like visiting your nearest Christmas market, and the most famous of all Europe's Christmas markets are those to be found in Germany. Every town in Germany has its own Christmas market, or Christkindlmarkt, and the ones in the larger cities are breath-taking in their splendour. Easily located markets include those in Frankfurt, Berlin and Hamburg.
Christkindlmarkts (translation: Christ Child Market) open on the first Sunday of the Advent, and usually close on Christmas Eve at noon. The market of Nuremburg is one of the oldest and certainly the most famous, dating as far back as 1628, and by 1637 records show that nearly all of the city's merchants were present to sell their wares. Present day markets draw people from local and foreign backgrounds and the produce available has not really changed all that much since the markets' beginnings!
A German Christmas market includes a few stable things. Lebkuchen (gingerbread) and Gluewein (mulled wine) will always be available. Lebkuchen differs from the gingerbread of other countries and is a closely guarded German secret, exported to other countries especially for the Christmas season. Some markets will let you purchase your Gluewein mug, thus giving you another piece of Christmas kitsch. Other German foods to look out for and gorge freely on include Stollen (fruit loaves), gebrannte Mandeln (roasted almonds), Fruechtebrotand (rich fruit loaf) and of course Bratwurst.
Of course Christkindlmarkts don't just sell food! A multitude of toys, cards, decorations, art work, sweets, books, jewellery, candles and local specialities can be found. Most stalls will sell Christmas decorations, the most famous of which being Zwetschgenmaennle - small figures made from dried fruit and crepe paper.
The most awe-inspiring (or sickening depending on your cynicism level) part of Christkindlmarks must be the grand opening on the first Advent Sunday. In Nuremburg, the market is opened by the 'Christ Child', a girl, aged between 16 and 19, selected by a jury, which comprises the heads of the press, tourist and market offices, the director of drama, the previous Christchild and media representatives. The Christ Child, when finally picked, is charged with reading a prologue, a poem, and having a wide-roving knowledge of her city. This may sound like no big deal, but it's a great honour for the girls.
Fired with enthusiasm (possibly misguided), I headed for my nearest German Christmas Market. Luckily for me, this is in Birmingham, England. Birmingham, twinned with Frankfurt, has the largest authentic Christmas market outside of Germany or Austria. Traders have flocked from Frankfurt for three years now to sell their goods to the people of Birmingham and the Midlands, and it's been a success every time so far (as far as I know). This knowledge safely in hand, and a £20 note tucked in my pocket, I headed out to see what I could see, taking along a friend of course.
Possibly the first thing that struck me was the smell! A good smell! The aroma wafting from various stalls was enough to make one ravenous and I soon found myself giving in to both Stollen and Gluewein. Hands full I carried on, inspecting all the stalls I could see. Crystal, ornaments, Christmas decorations, and jewellery of quite exquisite design were everywhere. There must be something for everyone in such a market. Everywhere there were gifts that could be given to almost anyone! If you're stuck for presents for someone, heading down to the nearest Christkindlmarkt may be just the trick.
The market wasn't all about getting your Christmas shopping done however. Right in the middle of the market, I found an old fashioned Merry-Go-Round with a fair amount of children on. However, after my Stollen I wasn't quite so keen to have a go myself. Satisfyingly close to the Merry-Go-Round I found the beer stall. Surely this is what it's all about! A few pints later, and I made my way carefully back into the thrumming mass of the market. One close encounter with a German butcher later, and my mind was firmly set back on shopping. I discovered glassblowers, potters, wood crafters, clothing producers, and musicians. Something I found rather delightful, and couldn't resist stopping at, was a stall of cardboard creations. There were pirate ships that wheeled on cannons when you pulled a string, birds that flew, and dragons that ate stricken maidens. All in the Christmas spirit of course!
One pirate ship later and I decided that my research was probably completed and I couldn't string the day out any longer with justification of research for H2G2, and so I headed back home. Once there I discovered these few places where there are definitely Christmas markets this year in the UK. Not all of these are German-style ones though, please be warned.

Birmingham. My personal market

Leeds. Who appear to also have sellers from Frankfurt! How dare they!

Bournemouth. Just a small one for them.

Edinburgh. Who also boast a 'visit from Santa's reindeer'.

Lincoln. Claiming to be Europe's biggest! But quick it's only until the 8th

Bath. Also only until the 8th of December

Sunderland. This is their first market so I hope it's going well.

Manchester. The greedy people are having THREE markets. The remaining ones: December 7-9 and 14-16.

Of course you don't have to be in Germany or England to catch that Christmassy feeling! Copenhagen, Denmark, has had its market in full swing since 16th November, continuing to 23rd December. Sweden is having one in Gothenburg until the 23rd, and this one has a free ice rink! Amsterdam wouldn't miss out and is running a market until 16th, and boasts a bob-sleigh run. Ostend, Antwerp and Bruges, in Belgium all have their markets, whilst France is practically bursting at the seams with Christmas festivities everywhere you turn! Of course the best markets to go to are inevitably in Germany and Austria. The majority will be running right up until the last minute. If you're anywhere near one go!