The h2g2 Poem
Created | Updated Oct 28, 2004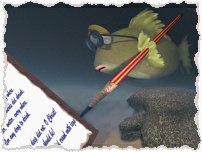 Double Life
1982

Make the best of the time that can spare
These magic moments alone to share
Watch you don't say what you feel
Don't ask yourself if this is real.

When you meet you long to hold her,
But first you know to look over your shoulder
Spend times in pubs watching doors
Eyes on ceiling, eyes on floor.

Remember tender moments of times spent alone,
That guilty feeling you got - creeping home
Hoping no one saw you come - or going
That uncertain feeling of never knowing.

That agonising moment when you meet in the street
Knowing too well that you can not speak
For she's with her husband and you with your wife
It's hopeless really-this double life.


Now its all over - the last farewell
Thought it would last but who can tell
What lies in the future - for you to see
A desperate struggle - with reality.