The h2g2 Poem
Created | Updated Feb 25, 2008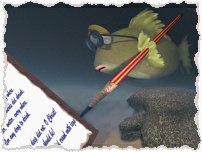 Winter Storm
I waited for the snow to fall -

Upon the bland prosaic sprawl

Of blocks and paths to nowhere at all.

A dash of white on a grey urban wall.
Impatient, I wanted the land transformed.

I wanted the laden clouds to storm.

I wanted the wind to blast the sleet,

Against the offending grim concrete.
Then one by one the flakes appeared.

They swirled, and danced, and downward steered,

By breeze, each to the other veered

To gather, settle, accumulate.
And soon the air was thick with white,

The ground completely out of sight.

The leaning drifts increasing height.

The Wind attacked with power and bite.
How nature answered my invitation

To bring about this transformation.

Might have come from my bold invocation...

But actually I'd tuned to the weather station.



Poetry by Various Contributors