The Drakker Lifthrasir
Created | Updated Oct 13, 2004

Welcome

Welcome to the drakker Lifthrasir. This is a lovely Viking raiding ship for all those who are NOT beserker. The ship is made from a very dark wood giving it a black appearance. For all you land lubbers the right side of the ship is called starboard and the left side is called the port side. In the center of the ship is a tall mast with one large sail red sail on it, and all along each side of the ship is a row of rows, as rowing and sailing are the ships ways of propelling itself. At the top of the sail is a crow's nest, and along the sides of the ships are shields spaced at regular intervals.


Mission Statement

We sail where we want to go, and do what we want to do.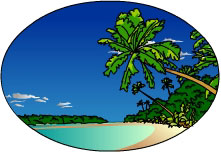 When we raid someone we are always very polite about it, and we only raid when we need something. If whoever we have raided has been a particularly good sport about the whole thing, we may even apologize or possibly even leave a small gift of some sort.


Joining
If you wish to join this ship's crew then there are 2 things you must do: the first is to fill this out to discover your Viking name http://www.thequarter.org/Media/VikingName.php. The other thing to do is to then report to the Recruitment Office and fill out a form that contains this information: Name, Male/Female, Suggested Job (A list of jobs can be found at the bottom of the page), Unumber, Breif description of appearance(If you would like to make an Apage about Viking self feel free to do so and I will link it to your name on this page).

This ship is absolutely huge underneath the surface so every crewmember is given his/her own cabin unless some people wish to share. The single cabins are about the size if a small walk in closet and the more people to a cabin the larger the room gets. All crewmembers are given a choice of a bunk, a cot, or a hammock. So welcome aboard, but please do not forget that the deepest circle of hell is reserved for betrayers and mutineers.

Places on the ship: A2941571, A2941580.

(Please do not start a new thread here, for questions and comments please go to the Recruitment Office.)


Crew

Click on the (A) to visit the Vikings Personal Space.


Officers
Job Ideas

Medic,
Nurse,
Oarsmen,
Purser,
Sailmaker,
Ship's Carpenter,
Purser's Mate,
Bosun's Mate ,
Ship's Carpenter's Mate.