Spiderman 'Trans-created'
Created | Updated Jul 7, 2004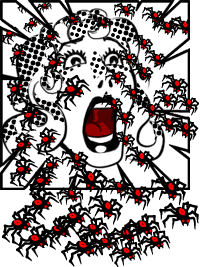 'Think of the incredible coincidence there: the 'Spider-Man - Comic Book Hero' entry made it into the Edited Guide as well as to Hootoo's Front Page in late June 2004 and, not long after that, we got news that Spidey was going to get a complete transformation in India...

Just for that, it deserved a mention in The Post somehow.'
Extract from: 'Loup d'Argent's (unpublished) Memoirs1'.
Enter Pavitr Prabhakar...
For those of you who missed the Conversation on Askh2g2, here is the story: the Gotham Entertainment Group (Indian publishing licensee for Marvel Comics) has announced the launch of a Spiderman more relevant to their readers in India.
To achieve this objective, they completely reinvented Spiderman as a young Indian boy (Pavitr Prabhakar)...


'We feel this is one of the most exciting and unique projects in comic history. Unlike traditional translations of American comics, Spiderman India will become the first-ever 'trans-creation', where we reinvent the origin of a Western property like Spiderman so that he is an Indian boy in Mumbai2 and dealing with local problems and challenges.'

Sharad Devarajan, Gotham's chief executive officer.


As the 'trans-created' character's stories are targeted at around 5 million comics readers in India, Makriman (spider in Hindi) doesn't seem to be a bad business-like venture either...
The 'New' Costume...
Quite similar to the western classic Spiderman's one, really...
The only difference is in the fact that the Indian version is wearing a dhoti (Indian wrap-around worn by men) and jooti(traditional shoes).
Re-invented Villain...
The first of the usual classic Spiderman's villains to get the same treatment as our web-swinging hero is The Green Goblin...

He is now Rakshasa, a demon from the Hindu mythology.

The Rakshasas are said to have magical and shape shifting abilities and are described as green, yellow, or blue3.
On a more trivia-like connotation, a Rakshasa has previously appeared in an episode of the 1970s TV series 'The Night Stalker'...

In that particular episode4, the investigative reporter Carl Kolchak tracked the demon down and eventually killed it.
When...
According to Gotham Entertainment Group, the first series of comics, written by Jeevan Khang, is due to hit the comics stores in all major cities of India in August...

This will be the ultimate test in a way, as the continuation of the Indian Spidey's exploits will depend on how well or not his 'trans-creation' has been received by the local fans.

For those who can't wait that long to see how Spider-Man India, Pavitr Prabhakar and Rakshasa look, some pictures are available on the Gotham Entertainment Group website.

Enjoy...
1What?!...

2Bombay... apparently.
3Guess which colour will the Rakshasa conveniently have in the Indian Spidey's stories...

4Titled 'Horror in The Heights'...