Sporting With Egon
Created | Updated Apr 7, 2004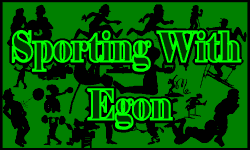 No sign of Egon this week I'm sorry to say, so we hand straight over to Several aka Random for his sporting blues.
Greetings from across the pond. I spent most of Saturday and Sunday parked in front of the telly with a full slate of the Final Four college basketball tournament, plus Opening Day for Major League Soccer. Cable teevee is wonderful, and remotes are even wonderfuller. A cooler of liquid adult beverages, microwave and popcorn in the next room, and me on the couch...ahhhh!
Freddy Adu garnered more headlines, for the 14-year-old's pro soccer debut before a national telly audience. Some 250 media-types gathered, peppering the boy with questions before and after the match. He acquitted himself well before the press, but did not score in the match between Adu's DC United and the San Diego squad. You had to dig deep to find that United won, 2-1, but eveyone mentioned Adu was scoreless in the second half.
The MLS is curious, with eight of its ten teams owned by two men, but league rules (and a salary cap) prohibit the 'stocking' of teams, along with separate management for each team. Two more cities are expected to be added for next season, each with individual owners, but the salary cap effectively keeps the playing field level. There is concern about the planned Manchester United summer tour of the States, which drew 422,564 fans in eight exhibition matches, drawing potential MLS fans away from the North American clubs.
This summer's Man U tour includes AC Milan, AS Roma, Bayern Munich, Celtic, Chelsea, FC Porta and Liverpool. League discussions with Real Madrid on sponsoring a team in any future expansion of MLS are underway.
Anyway, the men's and ladies' college basketball tournaments garnered the bulk of media attention, with Opening Day in Major League baseball, and soccer an afterthought behind pro basketball and hockey.
An interesting footnote to the men's basketball: only three African-American coaches have won the national championship, depite a good 75% of the athletes of that race. Georgia Tech's Paul Hewitt could be the fourth in their title game against the University of Conneticut. Also of note is that UConn also plays in the women's championship contest against Tennessee. Both those games are nationally-televised during 'prime time' while the soccer was scheduled at 4pm.
And the Easter bunny will arrive a week early for baseball junkies like me, who spent five long months waiting for the crack of the bat against the cowhide. After spring training in warm, sunny Florida and Arizona, the teams move north to play in cold weather for the first month or so. Ever feel the sting of an inside fastball on a wooden bat? Your hands buzz for the next half-inning.
So that's about all from here, several. a/k/a random, over and out.