Sporting With Egon
Created | Updated Mar 4, 2004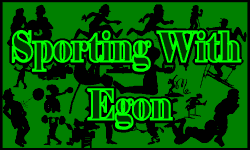 Egon is away this week, so several is reporting with sports.
Ah, Amsports reporting....what a thrill! Two pro football players are whining: their agents didn't fill out the necessary paperwork to become free agents, so they (gasp!) have to stick with the contracts they have instead of selling themselves on the open market. A pro basketballer, meanwhile, is whining that he DID become a free agent (but now he doesn't like the team he chose to sign for.) Two college kids are trying to enter the pro football draft a year ahead of what the rules say (final judgement on the court case pending.)
In college basketball, last week's number one team was beaten (pretty good game, what I saw) as their regular season is concluding the next two weeks, and there's plenty of bytes being wasted with speculation on major league baseball, which is in its first week of Spring Training (amidst a steroids controversy.)
The good news is, comedians across the nation have plenty of good material, just reading the sports pages about millionaires whining about the contracts they freely chose to sign, plus the under-age kids who lust to sign them.
And then we have the steroids issue, which has clearly killed several athletes and obviously causes health problems in others that I don't even want to talk about...
As I type, it is rapidly approaching breakfast time, and (as every sportswriter and athlete knows) breakfast is an important meal. There is oatmeal, nuts and honey, with fruit on the side... but I hear a jar of peanut butter calling my name.
This is several, a/k/a random, heading for the pantry.