The (un)official h2g2 Formula One Challenge
Created | Updated Jul 6, 2004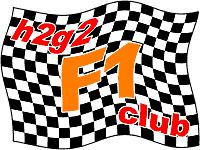 This is the (un)official Challenge of A1918244. The objective of the game is to guess who is going to be hot (or not) in the 18 races of the 2004 season. Here is a quick outline of the procedures...
Guess before the race weekend.
Get points after race weekend.
10 points for correct race position.
5 points for correct qualifying position.
Table of standings to show who knows about F1...
Everyone is invited to join the fun.
Playing this game is very simple. All you need to know to participate is the official Formula One driver's numbers published by the FIA. And of course you have to know your favorites for the next Formula One Race.
Check out the A2349083 to find out how to place your guess...
Standings
Here are the current standings including the Indianapolis Race:
Predicting the Race Results
Here is a list of all races for 2004. Click on a race to predict or look at the results...
(o) Grand Prix of Germany (Hockenheim)
(o) Grand Prix of Hungary (Budapest)
(o) Grand Prix of Belgium (Spa-Francorchamps)
(o) Grand Prix of Italy (Monza)
(o) Grand Prix of China (Shanghai)
(o) Grand Prix of Japan (Suzuka)
(o) Grand Prix of Brazil (Sao Paulo)
(o) means: this race is still open for guesses

(x) means: this race is closed.
The Awards
If you win a race you may include a badge like this in your personal space:


Challenge Winner
Melborne 2004
<table align="center" width="120" style="border:6px outset #663300; background-color:#663300">

<tr>

<td align="center"><LINK H2G2="A2349858"><IMG SRC="B5180421.gif" width="100" border="0"/></LINK><BR/>

<font style="color:#FFFC30; font-size:14px"><B>Challenge Winner</B><BR/>Melborne 2004</font></td>

</tr>

</table>