The h2g2 Formula One Supporters' Club
Created | Updated Jun 4, 2010
Welcome to the h2g2 Formula One Supporters' Club!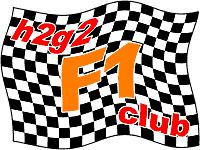 This is the place where every F1 fan will always be welcome, no matter who your favourite driver is or what team you support! So sit down, grab your favourite tipple, and cheer on your favourite fella in a helmet and fireproof undies...
To join the supporters' club, just fill in the box below, stating your name, U-number, and the team/driver you support. You will be added to the list as soon as I get round to it!

Enter your Name, U-number, and Favourite team/driver here!

MembersAdvocatus Diaboli (Raikkonen, Coulthard, Hamilton / Ferrari)Dr E Vibenstein (Kubica, Coulthard)Ferrettbadger (Hamilton, Sato / Super Aguri)fords (Hamilton, Kubica / McLaren)Paff (Button, Davidson / Williams)Random Mood (Anyone British! / McLaren, Williams)Reefgirl (Hamilton, Massa, Kubica / BMW Sauber, Renault)T.B. Falsename (Alonso, Trulli, Fisichella / Renault, Honda)ultrapete (McLaren)vmuppana (Ferrari, Force India)Cyzaki (Anyone other than McLaren)E G Mel (Ferrari, Michael Schumacher, Button)Vicki Virago (Ferrari, Barrichello)emlar (McLaren, Coulthard, Raikkonen)Brendan (Jaguar, Webber)Spike (Williams, Montoya)Demon Drawer (Jordan, Webber)Lifson Kofie (Minardi, Raikkonen/Montoya)Deano (Ferrari, Michael Schumacher)Dark Master (Ferrari, Michael Schumacher)Egon (Williams, Montoya (current) Patrese (all time))Lil Old Me (Montoya)Kiltedjedi (McLaren, Coulthard)JohnUK (BAR, Button)wimblin (Alain Prost)Juno (Ralf Schumacher)Gin Tonyx (Williams, Montoya)Twurlit_chuckle (Montoya, BAR)me[Andy]g (Jenson Button, BAR)Flybynight (Jenson Button, BAR)The Rev Jack Russell (Ferrari)MisterTea (Takuma Sato, BAR)Speller (Button, BAR, Jordan)Ginger The Feisty (Any but Ferrari) Deep-Thought-42 (Michael Schumacher, Ferrari)Empeda (Anyone other than Ferrari post 1988)bizarrephliphlop (Coulthard, Red Bull)adder (Sato, BAR)Percy "Thrills" Thrillington (Coulthard)Merlin (Coulthard, Williams)Sally-Ann (Raikkonen, McLaren)miraculousrandomness (Montoya)
Once you're joined up, please put our very cool badge on your personal space to advertise the club (you don't have to, of course, but it is a very cool badge). The GuideML to use for this is:

<LINK H2G2="A1918244"><PICTURE EMBED="CENTER" BLOB="B5180421" ALT="The h2g2 Formula One Supporters' Club"/></LINK>

So all you have to do is copy and paste that into your personal space and you end up with this:

If you have any rumours or gossip, post them in the 'News and Gossip' thread below. If you have any news1, post it in a new thread below, giving it a headline-style title.
If there is anything you want to see here that isn't here already, or if you have any ideas for the club, post below!
The Stats Bit
2010 Calendar
Date
Country
Winner
Mar 14
Bahrain
Fernando Alonso
Mar 28
Australia
Jenson Button
Apr 4
Malaysia
Sebastian Vettel
Apr 18
China
Jenson Button
May 9
Spain
Mark Webber
May 16
Monaco
Mark Webber
May 30
Turkey
Lewis Hamilton
Jun 13
Canada
Jun 27
Europe (Valencia)
Jul 11
Great Britain
Jul 25
Germany
Aug 1
Hungary
Aug 29
Belgium
Sep 12
Italy
Sep 26
Singapore
Oct 10
Japan
Oct 24
South Korea
Nov 7
Brazil
Nov 14
Abu Dhabi
2010 Driver Line-up
Team
Drivers
McLaren
Jenson Button
Lewis Hamilton
Mercedes
Michael Schumacher
Nico Rosberg
Red Bull
Sebastian Vettel
Mark Webber
Ferrari
Felipe Massa
Fernando Alonso
Williams
Rubens Barrichello
Nico Hulkenberg
Renault
Robert Kubica
Vitaly Petrov
Force India
Adrian Sutil
Viantonio Liuzzi
Toro Rosso
Sebastien Buemi
Jaime Alguersuari
Lotus
Jarno Trulli
Heikki Kovaleinen
Hispania
Karun Chandhok
Bruno Senna
Sauber
Pedro de la Rosa
Kamui Kobayashi
Virgin
Timo Glock
Lucas di Grassi
Links
1News that is actual fact, eg race reports or drivers moving teams etc.