Sporting With Egon
Created | Updated Mar 19, 2004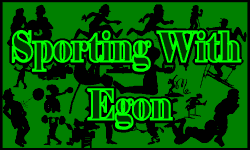 Miklos Feher (1979-2004) RIP
In an incident horribly reminiscent of the death of Cameroonian footballer Marc-Vivien Foe last summer, the Hungarian centre-forward Miklos Feher collapsed and died of a heart attack during Benfica's away match against Vitoria Guimaraes on Sunday.
Feher was just 24 years of age. Born in Gyor in June 1979, he began his career with his home town club, scoring 23 times in 62 appearances in the Hungarian league, before getting a big move to Portugal.
His first club in Portugal were the great FC Porto, but he struggled to get games with them. His inability to displace Brazilian striker Mario Jardel, now at Bolton Wanderers, meant that he had little time on the pitch during his first season with the club, the 1998/99 season in which they won the Portugese league title.
During the 1999/2000 season, as he still struggled to break through at Porto, he was loaned to strugglers Salgueiros, scoring five goals in fourteen appearances to help save that side from relegation. The following season, he was again loaned out, this time to Sporting Baraga, where he found the net 14 times in 26 appearances, winning the club's 'Player of the Year' award.
Frustrated with his lack of opportunities at Porto, Feher requested a transfer at the beginning of the 2001/02 season, but the club refused to grant his request, and he spent the season playing for the Porto B team until his contract ran out in the summer of 2002, leaving him a free agent.
In June 2002 he sealed a move to Benfica who, along with Porto and Sporting Lisbon, are one of the major teams in Portugal. At Estadio da Luz1 he was more involved in the first team squad than at Porto, scoring four times in 17 appearances in the 2002/03 season. In the 2003/04 season, he had added another three goals despite being used predominantly as a substitute.
It was as a substitute that Feher made his final appearance, the match in which he died on Sunday. He entered the field of play after 59 minutes, provided the assist for the Benfica goal in the 88th minute, and shortly after being booked for time wasting in the 89th minute, he collapsed.
'It's incredible that something like this happens,' said match referee Olegário Benquerença. 'I immediately knew something was very wrong when he fell on the pitch and all I could do was call the medical crews of both teams.'
The best efforts of the medical teams of both Vitoria and Benfica, and of the staff of the Guimaraes Hospital, could not revive him and he was pronounced dead at ten minutes past midnight.
Feher earned twenty-five caps for Hungary, scoring seven times, and was a promising young player whose potential will now, sadly, remain unfulfilled...
A death is always a sad occurrence. When it strikes young, seemingly healthy, individuals it is so much worse. As a sports fan I have heard over the last few of years of the deaths, before the age of thirty, of cricketers Ben Hollioake and Umer Rashid and footballers Jimmy Davis, Aaron Flahavan, Marc-Vivien Foe, and now Miklos Feher. Of these, Davis, Hollioake and Flahavan died in car crashes, Rashid drowned, and Feher and Foe died doing what they loved - playing football.
Feher pushed his body to its limits as a footballer and this is the tragic result. We do sometimes underestimate the amount of strain that propfessional sportsmen put on their bodies. As Master B put it in a thread in the Virtual Supporters Club,

As was said after the Marc-Vivien Foe tragedy, incidents like this justify footballers' high wages to a much greater extent.'
I would like to extend my utmost sympathies to the friends and family of Miklos Feher, and to all those who played with him for Benfica, Porto, Gyor, Salgueiros and Sporting Braga. May he rest in peace.
Australian Open Tennis
OK, as usual Tim Henman was built up by the British press before battling valiantly but throwing away a two set lead, this time against Guillermo Canas. The Aussies haven't had great success, Lleyton Hewitt and Mark Philipousis both exiting in the fourth round. Andy Roddick suffered a surprise quarter-final defeat at the hands of Marat Safin, who faces Andre Agassi in the semi-final. Spanish number three seed Juan Carlos Ferrero will be up against second seed Roger Federer in the other semi.
In the women's tournament, Justine Henin-Hardenne and Kim Clijsters, the stylish Belgian pair, look to be inexorably destined to meet in the final. Venus Williams was the surprise third round victiom of Lisa Raymond, a thirty-year-old doubles specialist who has never risen higher than number fifteen in the world. Fabiola Zuluaga has become the first Colombian to reach a Grand Slam semi-final, after getting a walkover when Amelie Mauresmo pulled out of their quarter-final with an injury. Zuluaga faces Henin-Hardenne, who recovered from a poor start to beat Lindsay Davenport in the quarter-finals. Kim Clijsters overcame a foot injury to beat temperamental Russian Anastasia Myskina, and will face Swizz Patty Schnyder in the semis. Only Clijsters injury can prevent an all-Belgian final against Henin there.
Michelle Wie
14-year-old Hawaiin schoolgirl Michelle Wie is a very talented golfer. The 6ft teenager is among the best players on the women's tour already, and she rarely plays on it due to her age. This month, Wie took part in the Sony Open, a men's tournament.
Asked by the Hawaiin press how he thought Wie would do, Stuart Appleby suggested, in a very insulting and patronising tone 'Two nice little scores in the 80s'. Note for non-Golf fans - Par is 70. The aim is to break Par. Scores in the 80s could not be described as 'nice' in any circumstance. Wier didn't get two nice scores in the 80s - she hit a first round 72, and a second round 68 to be even par for the first two rounds, and missed the cut by a single shot. She got exactly the same score as Stuart Appleby.
Several A/K/A Random's 'sporting blues'
And now lets see what Several's musings on the US sporting scene are2.
Some 120,000 visitors are expected in Houston, Texas this week for what the National Football League bills as 'Super Bowl XXXVIII' and is the 38th championship game between the American Conference titlists, this year the New England Patriots and the National Conference Title Holders, the Carolina Panthers. Enough media hype and byte space has been wasted in the two weeks between the conference championships, enough teevee time and money that it would be pretty much impossible for any American to not be exposed to what I term the 'stupid bowel culture' of the good old US of A.

Let's start with the 72,000 seats in the stadium: face value on tickets are $400 to $600 and are selling in the Internet for between $2,000 and $7,750 per seat. I understand that the American dollar is dropping in value as opposed to the pound and the Euro, and the only way I can describe it is to state that I've never made more than $12,000 in a year. So that $7,750 ticket on the 50-yard line would be about what I pay to have a roof over my head and utilities.

A teevee audience of 90 to 130 million is expected; the city of Houston is expecting some $300 million will be spent in the eight-county area around the city, which is the 4th largest metro area in the nation. Another number: a 30-second advert during the three-plus hour game is costing $2.3 million. Advertisers from cars to beer to computers and snack foods will debut their newest ad campaigns, commercials we will see over and over and over again, and million$ will be spent polling us, the people, on what we think of the commercial AND WOULD WE BUY THAT PRODUCT.

For the record, the Patriots are 16-2, having won 14 straight games to qualify for their second 'stupor bowel' appearance in the last three seasons (they won two years ago) and the Panthers are 14-5 and are rated seven-point underdogs by the Las Vegas oddsmakers. Both squads feature solid defenses and feature no 'superstar' athletes, just two teams that attempt to go about their business efficiently, make few mistakes and make bland comments to the media.

Days gone by, teams would have one or two 'charismatic' players or coaches that give 'headline' quotes and sound bites for the media, but these two teams have been well-schooled about praising their mommies and daddies and grammas and are 'just fortunate to be representing my family and the great fans of (fill in the blank)' and other horse hockey blather, while hundreds of media types stick cameras and tape recorders up their noses and ask the same questions they've answered 400 times already.

Sometimes, one or more of the players will suddenly snap on the 401st question, however, and reveal that he's only here in Houston for the titties and beer and is so loaded on 'athletic supplements' he's ready to tie himself to a rocket and go settle the moon all by his lonesome, as long as he can get booze and broads sent up weekly, with his 'supplements' and junk food and, oh, a few videos, CD's and fast-food takeout.

It's Super Bowl week in America, which I can only compare to a Premier League or World Cup final in, say, Liverpool with full Beeb coverage and every major company on the Continent hosting 'hospitality parties' within a 70-mile radius and special trains hourly from London with every corporate fat cat, sponsor and their entourage demanding fresh caviar and more Chateau Le Poop, and not the '75, you idiot, I want two cases of the '74 from the cellar.

Then mix in tequila, with or without the worm and that'll be Houston, Texas this week. Gametime Sunday February 1 around 6:30 PM EDT, which puts it around 2 AM Monday across the pond. Me? I'll be savouring appetizers and a prime rib dinner at local pubs for my $45 wagers on random numbers, depending on the score at the end of each of the four quarters.

If I write something for next week's Post, it may come thru in Martian.

This is several, a/k/a random, staring out the back window at about two miles of ice on the great lake named Erie, over and out.
Have Your Say
If you would like to report, opine or rant on matters sporting as I and Several do here, then just drop me a line at my personal space, or comment below. Also comment below if you would like any elaboration or further explanation of any of this week's stories.
Egon

with Several a.k.a. Random 


1Literally translated, the Stadium of Light - home ground of Benfica in Lisbon
2And a brief word from me: 'Go Patriots'.