The h2g2 Poem
Created | Updated Oct 31, 2007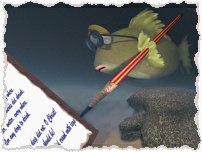 Soundcheck

This voice is spooky, said the mouse,

It made me go and lock the house.

It frighteningly sounds like Hal.

Who's that then, asked I, pray, do tell.

It's a computer voice, she said,

And this one does sound just as bad.

She has a point, said EMR

Computer-esque it sounds from far.

Amiga's sound chip I recall,

Roymondo said, to top it all.

I second that, the Moonhogg said,

Sounds like the Commodore I had.

If I was to make a choice,

I'd vote for the other voice;

And if you need more evidence:

The female voice lacks confidence.

I like it, Skankyrich chimed in,

Let's vote and see which one will win.

It's weird but cute, commented Sho.

Oh well, I asked. So now I know.