The Post Christmas Poetry Competition 2003
Created | Updated Dec 7, 2003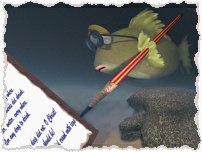 THE POST

Christmas

Poetry Competition 2003

This week we have four entries for you to enjoy, and I am sure you will agree that all are
wonderful poems. You still have one more week to send in your own entries, so hopefully the standard of
these poems will inspire you to create your very own festive masterpieces. Next week all the poems
received will be displayed for you to enjoy and then you can send in your vote for which you think is
the best.
If you want to take a look at last week's entries then click HERE
Remember to include your researcher name and your 'U' number with all poems submitted, you can
find the email address below. Good luck and happy writing.
THE RULES
The last day of entry for the competition is TUESDAY 09th DECEMBER

2003
You may only send in one poem and it MUST be your own work
Please include a title with your work.
Voting will start on Thursday 11th December 2003 and finish on Tuesday

16th December 2003
Only one vote per researcher will be accepted, and you cannot vote for your own

work.
If there is a tied vote, then the Post Team will cast the deciding vote.
All entries will be displayed in the Post during the forthcoming weeks.
The winning entry will be announced in the Christmas Edition of The Post, on Thursday 18th

December 2003
Good Luck.
E-Mail your poems to [email protected].
Please write POST POEM in the subject line...




This Weeks Entries
Sinterklaas


See in the distance comes the steam boat from Spain to us

He brings us saint Nicolaas I already see him standing

His horse is hopping back and forth all over the decks

See how the vanes are waving from left to right


His servant is laughing and calls out to us

Who is sweet gets candy who is bad gets the stick

Oh my dear saint Nicolaas come also to me

And do not drive quietly by my home



Christmas Sprit


I was a friend of the baby Jesus.

Travelling long and far, bearing gifts both rich and rare.


Gold frankincense and Myrrh, were brought before him, the

greatest gift of all was that of Love!


Today I beckon to Jesus and do his bidding.

Bringing gifts every year to all who wish to receive.


Not now the riches that money can buy, but the riches that a

king's ransom cannot gain.


The tear of happiness, a cry of laughter on Christmas morn,

or just simple words. "thank you"


I will live as long as children's hearts both young and old

are filled with the joy and love of Christmas time.



A Windy Christmas...


Once there was a windy Christmas

inside all was fine... the fire burning

the lights were twinkling

the tree stood green and high.


Once there was a windy Christmas

outside the snow did fall

the high winds blew in blizzards all

and white washed streets lay bare


Once there was a windy Christmas

in the air some reindeer flew

a sledge was swaying and something fell upon the snow

what it was we don't yet know


Once there was a windy Christmas

the next morning all was lost

caught in a blizzard the snow had been

no presents lay underneath the tree of that home so warm

but when they walked out to complain who should they find upon the lawn

but St Nick upon the snow frozen like the day.



Peace on Earth


When angels walk among us

their breath calms the slashing wind.

Their wings sweep our cities clean.


Their voices call the sun

newborn into the dawn.

Beneath their feet rivers run clear.


The people grow ashamed,

and wash their hatreds

in cold blue water.


Words hurled in anger burst into sunlight

and sow the broken fields.

Stones become loaves of bread.


When angels walk among us

wise men appear bearing gifts.

The children grow wings


and leap into the air for joy.

They are so beautiful,

their parents break into blossom.






Greebs