The Post Christmas Poetry Competition 2003
Created | Updated Nov 26, 2003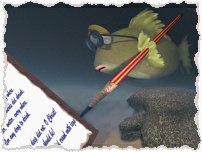 THE POST

Christmas

Poetry Competition 2003

This week we have two entries for you to enjoy, and I am sure you will agree that both are wonderful poems. You still have two more weeks to send in your own entries, so hopefully the standard of these poems will inspire you to create your very own festive masterpieces.
Remember to include your researcher name and your 'U' number with all poems submitted, you can find the email address below. Good luck and happy writing.
THE RULES
The last day of entry for the competition is TUESDAY 09th DECEMBER

2003
You may only send in one poem and it MUST be your own work
Please include a title with your work.
Voting will start on Thursday 11th December 2003 and finish on Tuesday

16th December 2003
Only one vote per researcher will be accepted, and you cannot vote for your own

work.
If there is a tied vote, then the Post Team will cast the deciding vote.
All entries will be displayed in the Post during the forthcoming weeks.
The winning entry will be announced in the Christmas Edition of The Post, on Thursday 18th

December 2003
Good Luck.
E-Mail your poems to [email protected].
Please write POST POEM in the subject line...




This Weeks Entries
Time of Good Cheer


Christmas is the time of year

Which we are told is full of cheer.

Parties, presents, food and drink,

Time to party, not to think.


See the family and watch the tele,

Play some games and fill your belly

With sweets and crisps, the occasional nut,

But I still have a feeling deep in my gut.


What if it's you alone in your chair,

No one comes visiting, there's nobody there,

How do you feel, when there is only you,

Are you one of the many or one of the few?


It must be hard to join the party,

To make the effort to be hale and hearty,

You might be frail or you might be fit,

You're on your own, not part of it.


There are still people, who know you exist,

Surely you feature on someone's list,

Couldn't they call to the door or the 'phone,

Just to say that you're not all alone.


All I would want, is one little sign,

To know I exist, that this moment is mine

Someone to know, that I am still here

This Christmastime, this time of Good Cheer.



The Gift


T'was Christmas morning, the end of a long night

Santa climbed down from his sleigh in the dawning light

Leaving the reindeer to the elves he tiredly walked up the path

For a hearty breakfast, and some rest at last


Greeted by Mrs Claus, glad to be back

A kiss on the cheek, she took his sack

A shake, a frown, opening wide

'Dear, I think there is something left inside.'


Santa peered down into the bottom of the cavernous bag

Through the black depths he spied the glint of a tag

Reaching inside he pulled forth a small package in festive wrap

'Oh my,' said Santa, 'a present someone does lack!'


He pulled out his list, the one he'd checked twice

and ran through it again, checking each name thrice

Shaking his head, not finding his mistake

He looked at his wife, not sure what action to take


'I must go back out, and deliver this quick

Though to whom I am not sure, as each name has a tick

But someone this morning will wake and be sad

No present from Santa is very, very bad!'


'Maybe the tag will give a clue, dear Santa look and see,'

said Mrs Claus with a bright idea, a good wife is she

So Santa looked, and did stare at the name written there

For he'd never delivered to this person, not one single year


'Oh my!' he exclaimed, 'This cannot be true,

it's my own name that's written, what a to do.'

'Yes indeed dear husband, a gift you deserve,

from all the elves and myself for the joy you bring to the world.'




Greebs