The Caped Confuzzler - Part 11
Created | Updated Mar 8, 2007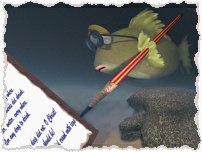 Confuzzle For Sale
After many goodbyes, the three friends were on their way back to Earth with what they hoped would be the answer to the impending cloud of sombreness that was moving across the universe. Keith was wondering what would happen next. On the journey back to Earth, a plan for distributing the Confuzzle grooming products was discussed.
Paul's spaceship landed with a thud. Keith, John and Paul went to various department stores, seeking shelf space for the Confuzzle line. After much haggling, a large department store agreed to display the Confuzzle line on consignment terms. Part of the agreement was that Paul, Keith and John would have to promote and sell the products themselves.

The Dark Lord was growing angry with the delay of his plan to drain all the joy out of the universe. He was growing more short-tempered every day. One morning as Lord Rational was eating his breakfast, he made a decision. Earth was the next target and he was going to make sure his plan was progressing, even if he had to go there himself. Lord Rational began to make a list of other things to do while on Earth, such as get a new pair of evildoing gloves, because his current gloves were so last season.

Monday morning was overcast as Paul, Keith and John set up their large Confuzzle display at the north entrance to the department store. All of them were nervous, as a lot was riding on whether or not this reached enough people to be effective. John was to stand on the north side, Keith on the west side and Paul on the south side of the huge display, and give out free samples to approaching customers.
The first few hours seemed rather dull, with the usual sales banter: 'Hello, would you like a complimentary sample of Confuzzle, a new fragrance?' It was tempting to ask 'Would you like fries with that?' Still, they continued distributing samples and selling the grooming kits.
One lady ripped open the sample sachet, sniffed, applied the contents to her wrists and neck and exclaimed that it was so lovely she wanted to buy six of the kits for her close friends. Others, having seen that reaction, scooped up the kits and bought them without trying the samples. Maybe it was the pinkish, purplish, glittery packaging, with a bow, that made it so attractive.
The sky darkened outside. A storm threatened. Keith began to feel a bit claustrophobic. He looked at Paul, who seemed a bit agitated.
John whispered around the display, 'Hey, you feel okay? It seems kind of weird all of a sudden.'
'I'm okay, but it seems like the air got heavy all of a sudden,' answered Keith.
Paul shivered as he noticed a figure walking in the north entrance. John felt a strange tingle from the pendant around his neck. Keith felt a bit dizzy as he noticed his pendant go cold against his chest.
The figure stopped inside the main door for a moment, then walked into the men's accessory store across from the Confuzzle display. Paul casually moved around the display to have a word with his two friends.
'Something of great evilness just entered the building and I have my suspicions as to who or what it was. I'll need your help — open your pendants.'
The young men did as requested. Paul watched the door of the accessory store. Keith continued to distribute samples.
As soon as the darkish figure left the men's accessory store, Paul greeted him. 'Good afternoon. Would you like to try a sample of a new wonderfully intoxicating line of personal care products?' asked Paul as Keith and John moved a bit closer.
'It's wonderful stuff, all natural and even good for your skin,' added Keith.
'It makes great gifts, and at the low introductory price, we're practically giving it away,' exclaimed John to the mysterious shopper.
The shopper tried to resist. But hashing evil plans is expensive, and if the products were as good and cheap as these young men were professing, then what else could a dark lord on a budget do but buy several?
After Paul had packed several of the kits into a bag and finished the transaction with Lord Rational, he carried the packages for the Dark Lord out to a taxi as well. As the taxi sped away, Paul breathed a huge sigh of relief. Keith and
John wasted no time in asking what that had been about.
'Gentlemen, you have met the Dark Lord, himself, Lord Rational, explained Paul as he went on to add, 'Now, before we cause complete mayhem of the type that hasn't been seen since Beatlemania, please, shut your pendants.'
In his spaceship, Lord Rational was contemplating his new purchases. He was at a loss as to why he had bought so much of the Confuzzle stuff. For a moment, he thought of returning it. Then he remembered how much he hated the queues to return stuff. The only rational thing to do seemed to be to take a shower or even a bubble bath and use up some of this stuff on which he had wasted his money.
The bubble bath smelled nice as he poured it into the tub. He began to hum a tune. The shampoo did wonders for Lord Rational's dry scalp. The conditioner fixed his split ends. By the time he had finished with the soap and the matching deodorant, he was positively singing 'I feel pretty, oh so pretty!'
Evangeline and
Cal Fortuneswell