Our Man in Neologia
Created | Updated Nov 30, 2006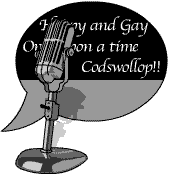 This is the first dispatch from your researcher in Neologia, a place where new words roam free across the plains until caught, tamed and brought back to be introduced to our society. These words need your support to ensure that they are fully integrated and can go on to have a fulfilling and useful role. If you come across any words that you think deserve a new life, please start a conversation below this Entry. New suggestions may be included in a future edition of The Post.
For Your Consideration...
EGLEY (verb) — the act of reading to oneself using the style of the author instead of one's own voice.
Origin: taken from the poet John Hegley, whose written work can only truly be appreciated when you imagine it being delivered by the author.
Example: I was reading the entry on Eddie Izzard, but the quotes only came to life when I hegleyed them.
DANIELS (noun) — someone of undisputed talent who is, nevertheless, deeply irritating.
Origin: named after Paul Daniel,s a popular TV magician and mainstay of Saturday night television in the 1970s and 1980s. Now widely held to be deeply annoying, a trait which has been used in a series of adverts.
Example: The IT guy knew his stuff, but was a real daniels.