Sporting With Egon
Created | Updated Mar 19, 2004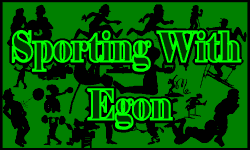 Eagerly settling down to his university library computer, the intrepid sports reporter marvels at the return of free internet and settles down to write his first column in, ooh, ages.
Well, it certainly has been quite a summer and this week I will be recapping some things that have taken my fancy in my absence.
Football
Well, the Premier League table currently sees Chelsea, Arsenal, Manchester United and Birmingham towards the top, while Newcastle, Wolves, Bolton, Leeds and Tottenham seem to be gravitating towards the other end. Tottenham have sacked Glenn Hoddle, and the list of possible replacements is long, boring and in many cases ludicrous. So I'll just tell you I think Raddy Antic will get it and leave it at that.
The idea of Premier League teams loaning players amongst themselves, a rule passed by the Premier League only this sumnmer, is really catching on. Everton have Francis Jeffers from Arsenal, Leeds have Jermaine Pennant from the same source1, Danny Mills being farmed out by Leeds to Middlesborough, Chelsea lending Mikael Forsell to Birmingham and Carlton Cole to Charlton. Charlton and Tottenham have lent Paul Konchesky and Chris Perry to each other, Liverpool's Markus Babbel has gone to Blackburn
Chelsea, meanwhile, have splashed the cash big time after being bought by Russian billionaire Roman Abramovich. So far they have spent oodles on Glenn Johnson, Wayne Bridge, Alexei Smertin 2, Claude Makelele, Juan Sebastian Veron, Damien Duff, Joe Cole, Geremi, Adrian Mutu and Hernan Crespo, and bugger all on three goalkeepers - Marco Ambrosio, Jurgen Macho and Neil Sullivan, all of whom are back up for first choice Carlo Cudicini.
Everton, surprisingly, were the most active side on deadline day, signing Kevin Kilbane, James McFadden, Franny Jeffers (loan) and Nigel Martyn on that day. Although, the season hasn't really got underway for the Blues yet, hopefully the 4-0 win against Leeds, with a hat-trick by right-back turned midfielder Steve Watson, could prove to be the performance that gives us a kick-start.
Internationally, England need only a draw in the potentially explosive visit to Turkey to qualify for the World Cup. Scotland still have an outside chance of qualification, but not much of one, and Wales have been guaranteed a play-off place, losing out on an automatic place to Italy.
Cricket
An interesting summer of cricket for England, who managed to edge a test series draw against the South Africans to add to the utter battering of the Zimbabweans earlier in the season. Several new players appeared for England over the summer - Richard Johnson, James Kirtley, Anthony McGrath, Ed Smith and Kabir Ali made their international debuts, and Alec Stewart retired3. I was disappointed that Ed Smith, described as the most intelligent sportsman ever to play for England 4 didn't recreate the form he had been showing at Kent when playing for England. Smith is a sportsman who seems like a lovely chap, and has written a magnificent book, Playing Hard Ball comparing and contrasting the sports, skills, tactics and cultures of baseball and cricket.
English domestic cricket this year saw Sussex pip Lancashire and Surrey to the County Championship Division One title, Sussex's first title in over 130 years of first class cricket. Division Two was won by Worcestershire, who picked up the necesary bonus points against Hampshire in the last game to pip hampshire to the title. The National league and innovative new 20/20 Cup tournament were both won by Surrey and the C+G trophy saw my team Worcestershire, who were also relegated from division one of the National league, battered by Gloucestershire. However, I attended the semi-final between Worcestershire and Lancashire at New Road, Worcester which was one of the most fantastic games of cricket I have been to, going right down to the wire before three wickets in the final over by Worcestershire's South African all-rounder Andrew Hall won the match for the home side.
Rugby League from Intern
As I'm sure you may have noticed, during my absence Intern's Rugby League Reports have become something of a staple of the Post, and I urge you to continue to read his column. He was initially going to contribute bits to this column, but his own articles are the better venue for the level of depth he prefers to go into.
Formula 1 Motor Racing
With one race to go, if Michael Schumacher finishes in the top eight of the final Grand Prix of the F1 season, the Japanese GP in two weeks time, he wins the world title. If he doesn't finish in the top eight, Kimi Raikkonnen needs to win in his McLaren to take the title. Exciting stuff. The new regulations of Formula 1 have led to the most entertaining season in years, with highlights for me being the maverick driving of Williams' Colombian driver Juan Pablo Montoya, the skidfest in the rain at Indianapolis last weekend, and the race where Michael Schumacher was lapped by the winner Fernando Alonso, the youngest man ever to win a grand prix. I'm just hoping Schumacher repeats Nigel Mansell's feat of blowing the title while only needing one point (Mansell did it in 1986), as a new champion, and especially a young driver like Raikkonnen, would increase the rehabilitation of F1's reputation.
Tennis
Britain left the Davis Cup's elite world group after losing in Morocco, while Spain will face Australia in the Davis Cup final. A few weeks earlier, Justine Henin-Hardenne, whose truly divine backhand, elegance and style make her my favourite tennis player, won the US Open women's singles, beating fellow Belgian and new World Number 1 Kim Clijsters (Henin is number 2) in the final. Henin also won an absolute epic of a semi-final against Lindsay Davenport. I tell you, if that match comes out on video, watch it, watch most of Men's champion Andy Roddick's games, and then tell me women don't deserve equal prize money!
In my absence, my incredibly able American understudy Sveral a/k/a Random, traditionally restricted merely to a couple of paragraphs at the end of the column, has been standing in quite, quite wonderfully. But now I'm back and he returns to the bottom of the page5 with this to stay about the sporting week:
Hello again, boys and girls, the sporting life is in full swing here, to international attention, starting with the Women's World Cup in the sport I know as soccer. The 16-team field has been pared to the top eight and, by the luck of the draw, the two past Cup champions, the US and Norway, face off in the quarterfinal round of the tournament in Foxboro Mass. (just outside of Boston) along with Sweden vs. Brazil. The German squad faces the Russians and Canada takes on the powerful Chinese team out in Portland, Oregon, with the four winners meeting in Portland over the weekend and the finals October 12 in Carson, California.

The games look to be very well attended, and the US-North Korea match had some semi-understandable political overtones, but nothing too overt (at least not on national sports television). To my inexperienced eye, the young ladies play the sport rather seriously, good ballhandling and execution and great athleticism.

Over on the baseball front, where the league playoffs are set to begin leading up to the World Series later in the month, there was also a bit of international news in that a group of Russian 11-to-13-year olds met a team from Harlem, New York in an exhibition match and a baseball skills competition attended by BobDuPuy, president and CEO of Major League Baseball and Vyacheslov A Fetisof, the Russian Minister of Sports. On the first day, the kids had a drop-in visit from two of the New York Mets, who handed out hats and other gear and signed autographs.

One the second day, the skills exhibition was treated to an appearance by none other than Russian President Vladimir Putin who 'just happened' to be nearby, discussing some matters of possible import with his American counterpart. Actually it's surprising George W Bush didn't stop in, seeing as how he was once an MLB owner and played college baseball, but I guess his conference with his buddy Vlad just done tuckered the boy out.

Also of interest is the agreement between MLB and SPORT, a new Russian teevee network, to televise the World Series to the Russian people for the first time.

And now we get to the Big Story this time of year, the pro baseball playoffs pitting the three American League division title-lists and the second-place team with the best record in a best-of-five series, with the same arrangement in the National League. For the Americans, the Minnesota Twins face the perennial powerhouse Noo Yawk Yankers while the Yankers' arch-rival Boston Red Sox face off against the Oakland Athletics. In the National circuit, the Florida Marlins meet last year's runners-up San Francisco Giants while the Chicago Cubs meet the Atlanta Braves, another annual favorite. I'll get into more detail on the individual clubs over the next two weeks, it's a month-long saga where one pitch, one swing of the bat can change not only single games, but the outcome of the series.

As I've previously noted, pro and college football seasons are also underway, with a quarter of their respective seasons already played, so in the next month I expect I'll be paying more and more attention to the ol' semi-ovoid 'game,' played by Very Large Men in arenas across the nation every weekend, with a television audience in the millions agonizing over their favorites and the only real winners are the bookies.

So this is Several, a/k/a Random signing off before the approaching thunderstorm zaps this box of circuits into oblivion.
EPILOGUE
Right, Egon again here. I, for one, am really looking forward to the playoffs and the possible Yankees/Sox final (although if the Sox reach the world series, I lose a bet! As Several mentioned, the NFL season is underway (four weeks completed so far) and I would just add that for those who are fond of this 'semi-ovoid' version of football, then you may wish to drop by the h2g2 American football forum, where disussions about matches, predictions and tales of spottings of American Football paraphenalia in slightly unusual places can all be found.
Finally, some news: I will shortly be starting an exciting (vaguely)new Sports-related column in this very fine online newspaper, possibly next week. So keep your eyes peeled - you might be getting a double dose of me from now on. Anyway, 'tis good to be back in the Post and on the free internet. And I haven't even had a chance to write about the football matches I've been to this year. Anyway, more of this nonsense next week (and I mean it this time!)
Egon

with Several a.k.a. Random 


1Seeing as how my beloved Everton battered Leeds 4-0 at the weekend, Jeffers probably feels he's made the wiser move.
2Already loaned out to Portsmouth.
3And about bloody time too.
4He got a double first class degree in history from Cambridge.
5Cruel, but fair.