Sporting With Egon
Created | Updated Sep 3, 2003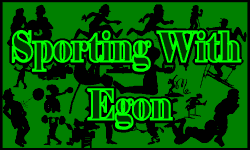 Egon is still away so he has entrusted his column to several a/k/a Random.
Hello, folks! It was a busy end-of-the-month in American sports and as I began this sporting news, Japan had taken a 6-0 lead against Boynton Beach, Florida in the Little League World Series championship game. Final results will be later in this missive, but one interesting note from recent play: four Japan pitchers combined for a perfect game against Dhran, Saudi Arabia. A perfect game is where no batsman reaches base by hit, error or walk. The final score was 17-0, in a shortened four-inning mercy rule. The mercy rule is 'kids, you're out of it, go get some ice cream and pizza. You done just fine.'
Basically, anyway.
In other American news, superstar basketball player Kobe Bryant of the once-champion Los Angeles Lakers is continuing his public relations efforts against a judicial court in Colorado, which is accusing him of rape while supposedly on a rehab assignment for an injury. He says the sex encounter was consentual, the young woman says otherwise. She went to a pro basketball player's room (Kobe is married) after midnight, by all accounts. Mr Bryant's wife, sporting a $4 million diamond ring, says she supports her husband.
Which begs the question: why wasn't the wife with the husband at the time? These are things that make you say hummmm...
In other international sporting news, the Athens, Greece 2004 Summer Olympics got a test run-through and Dennis Oswald, the chairman of the International Olympic coordination committee stated,

'I can can say that all the tests were brilliantly passed by the Athens organizing committee, except for the wind.'
Ah, yes, the wind... high winds sank four boats and crews on the first day of a rowing event test at a brand-new Olympic facility. An Australian crew member said:

'The person who designed this course should be strangled.'


And from Canada's National Post:

'The fact that 62 members of the German rowing team came down with salmonella poisoning (likely at a nearby hotel) must have slipped his mind.'


Make up your own punch line.

On a more somber note, Major League Baseball mourns the passing of Bobby Bonds, 57, of cancer earlier this week. Bobby was only the 4th player in baseball history to steal 30 bases and hit 30 home runs in the same season1 until his son Barry pulled the same feat during five separate seasons. Son Barry also recently smashed the ML record for HR's in a season with 73 and Barry's 39th HR of this season Thursday pulled him within eight of his godfather, Willie Mays, who at 660 career home runs is third all time in the longball department. Mays also pulled off the 30-30 mark in the 1950s and 1960's and later remarked,

'If I had known it was gonna be such a big thing, I woulda done it more.'
Japan is up 10-1 in the Little League World Series as I type and I wanna get this off to Greebo and the Post Crew well in advance of deadline so they can do their confuser voodoo (that they do so well) and make this look prettier than it really is.
So this is several, a/k/a random, from the glass-lined tanks of old Latrobe... oops, sorry, that's what's written on the back of a certain brand of cold adult beverage that is today's du jour sunset beverage... this is several - as in nicknames - also known as random (as in when and where I post2) from the shores of the great lake named Erie and hoping Egon can somehow communicate the vital cricket, English football and rugby news in some way, shape or form... I need another beer, here! Nmadit!!! The wabbit is just sitting there, looking at me.
Oh help... anyway, I'm over and outta here. Have at it, Post Crew!
1He did it five times.
2Or milo74 on the Cleveland Indians Fan Forum and several74 on AOL Internet Messenger.