The h2g2 Poem
Created | Updated Aug 20, 2003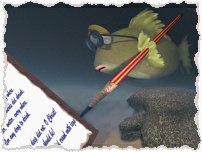 Moods
1986

Shades of gray and darkening skies,

Deep searching looks from empty eyes.

No hope of a future not even a gleam,

Not a ray of sunshine to be seen.

Long dark roads that go on for miles.

No sounds of laughter or even smiles.

Just long dark days that came and went

To add to your feelings of discontent.

Deep dark depressions with clouds of despair

That appear to follow you everywhere.

Large open spaces with deep dark voids,

Echoes of loneliness leaving a chilling noise.

Sounds in the distance way back in your mind,

Desparately trying to recall a time

Of music and laughter from way back when.

Will I ever recapture those days again?