The Hootoo Home of Today
Created | Updated Aug 6, 2003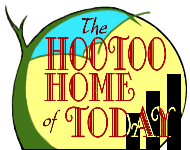 Bumper Fun Holiday Edition
'Why so affectionate all of a sudden? What is it you want out of me now?'

'Nothing' said Snubby looking hurt. 'I just felt sort of thrilled -
holidays, you know - no more work for ages... nobody's told me yet where we're going tomorrow!'

'Well, we start off early, and we catch the train to Woodlingham, and we change there, and we catch another train, a slow one, to Rockypool, and then we get a taxi to Rubadub' said Miss Pepper1.'
Well, in my case I may or may not end up in Rubadub (as in http://www.arts-letters.com/rubadub/rubadub.htmlRub-a-dub-dub three men in a tub) but I'm definitely Off on My Holidays!
Well, sort of, bit of a
man's holiday really, but they say a change is as
good as a rest, and I'm thoroughly looking forward to the super adventure of Terri Trots off to The Big Smoke.
If all goes well, I shall leave behind (temporarily

) the ongoing saga of my battle with Tiscali and also, sadly, poor Yoda (in the capable hands of her Aunty Pat) and end up earnestly discussing the ins and outs of this week's cartoon.
I did consult the Home of Today2 for advice, of course, and it counselled

'Before leaving home for a holiday, see that the house is left secure by apprising the local police that the house will be shut up, or putting in a caretaker. Precious articles, jewellery, etc; should be sent for safety to the bank. See that gas and water are turned off at the mains, and that the welfare of any animals is duly arranged for.'


Hmm, well, as I say, Yoda is being taken care of.

I'm assuming I will be taken care of too, however, I did have slight qualms when I read this.

'The Man Bachelor's Housekeeping. The housekeeping
problems of a bachelor man are totally unlike those of a bachelor woman, for unless he is really forlorn and lonesome, he will have some sort of housekeeper or landlady to look after his everyday needs, brush his carpets, make his bed, and perhaps mend his socks.

Lots of men can cook a bit; some cook exceedingly well and even those who have not been initiated can produce some quite creditable dishes, given the right utensils and easy to follow recipes and directions.'
I somehow suspect an easy to follow Boothby3 recipe might be appropriate at this point [it is the code of the spimcoots to provide champagne and ice-cream as a matter of course for honoured house guests - spim]
Champagne julep
The costliest drink made.

William, the famous New York mixologist, is responsible for the creation of this very expensive concoction and he declares that none but a master hand can be entrusted to compound this perfection of the art.
The foundation of this drink is made by crushing three or four sprigs of mint and three lumps of sugar in a dash of water. This produces a blue tincture of mint. To this is added two ponies of the best brandy.
The foundation is thus laid and the superstructure is now added. It consists of a pint of the finest champagne. Over this is placed a floor made of cracked ice, which supports the chief feature of the julep.
A circular fence is next built about the top of the glass with slices of pineapple, banana, citron and orange and a few red roses.
This vivid enclosure is then filled up with vanilla ice-cream. A few choice berries of a choice colour are set on top of the white cream and some perfect sprigs of mint are made to tower above the miniature flower garden.
When completed, the julep, William declares, is the king of all mixed drinks and is to a bar what a beautiful flower is to a lady's boudoir. It suggests the fragrance and pure beauty of nature. To use his own expression, 'it is the perfection of moist joy'. [It is also the code of the spimcoots only to invite house guests who are satisfied with a raspberry mivvy. - spim]
That's all very well but said house guest has been promised a bath! The Home of Today recommends several different species of bath:

The Herb Bath
'Delicious after a sea dip. Sea bathing is in the thoughts of every holiday maker. We take it for coolness in heat, and for health as well as pleasure but we should increase both if, like the French, we followed up the dip in the sea by another bath.

The skin that has become dried and hardened by a long motor drive, or by heat, will find how delicious is a bran bath. Those unable to sleep because of the heat will find a lime-scented bath taken before going to bed a marvellous wooer of sleep. Any of these simple bath adjuncts will richly repay their use by the smooth, elastic quality they impart to the skin and by the feeling of wellbeing and fitness, the result of soothed nerves.'
[Delicious baths!? Never heard the like, unless they're referring to bathtub gin. - spim]
Quite makes the mind boggle doesn't it? Enid Blyton4 would no doubt recommend
a cold shower and ginger beer. Here's something to take your mind off bodily pleasures. Let's go mental.
I am twelve months;

behead me and I grow on your head;

add another tail and I am a nobleman;

add yet another tail and I will never be late;

add another head and I hope your teeth look like this;

chop off my tail and find me in an oyster;

chop off my tail again and I grow on a tree;

add another head and I am a dangerous weapon;

take away my middle and I am fixed to the mast of a ship;

chop off my tail and head and find me in your family.
[Happy hols everybody! - spim]
The Hootoo Home of Today Archive
Terri & Yoda

and spimcoot
1The Rubadub Mystery - Enid Blyton
2Daily Express publications.
3The World's Drinks and how to mix them: The Hon Wm (Cocktail) Boothby
4Enid Blyton's Book of the Year.