Sporting With Egon
Created | Updated Jul 23, 2003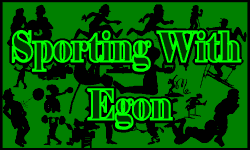 Egon is away this week, so he has entrusted his column to aka Random.
Major League Baseball
It was pretty much status quo in Major League Baseball the past week, with the Noo Yawk Yankers, Kansas City Royals and Seattle Mariners all holding at least a four-game lead in their respective American League divisions and the Atlanta Braves and San Francisco Giants leading by at least seven games in the National League. The only 'race' is in the National Central Division, where the Houston Astros are on a 9-1 roll and lead the St Louis Cardinals by three games.
This gives a good lead-in to this week's top baseball story: Houston's Jeff Bagwell hit home runs number 399 and 400, moving into 35th place in baseball history. What's most remarkable is that he is not a national story, hasn't been arrested or implicated in drug charges, and just quietly goes about his business, which is becoming more and more of a rarity.
In the only other baseball news of interest, former MLB player and manager Davey Johnson led the Dutch National team to its' 18th European Championship with a 2-0 victory over Greece at Haarlem, The Netherlands. Johnson agreed to coach the Dutch team temporarily after coach Robert Eenhoorn resigned following the death of his 6-year-old son from cancer.
Golf
Most interesting to me this week is golf's British Open, which was won by an unknown named Ben Curtis, as Thomas Bjorn and Vijay Singh faded in the final holes at the Royal St George's course. Ranked number 396 in the world, and at 500-1 odds, the Ostrander, Ohio native played steady, consistent golf to become just the second player to win the Open (or any of the major tour events) in his first appearance since 1913.
Curtis finished 26th in this year's PGA qualifying event (the top 28 earned Tour cards) and a recent trip to visit his college golf coach improved his putting stroke. He finished tied for 27th and tied for 13th in his last two events before winning the most famous golf tournament in the world. There was much celebration in Ostrander, Ohio; a tiny burgh where Curtis' grandfather built the town's golf course in the late 1940's.
So this is several a/k/a random, somewhere in cyberspace, over and out.