Sporting With Egon
Created | Updated Jul 23, 2003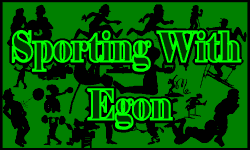 Egon is without an internet connection this week, so he hands his column over to aka Random for a full Baseball report.
From across the pond, Major League Baseball is taking its annual three-day break, for the All-Star Game, in which some of the best players gather. This year it is being held in Chicago's new Comiskey Park, which is across the street from old Comiskey Park, where the All-Star game was first played, 50 years ago in 1933. Players are selected for this exhibition contest, mostly by a vote from the fans, but also with votes by players, coaches and managers.
In this confuserizing age, where I can e-write across the world, online voting has been established, so that I could have voted up two 25 times on any of my random and several names and e-mail accounts, should I have chosen to. The process has its failures and its faults, as do we all.
For this year, the television network that pays million$ for the 'rights' to televise the game has insisted it be an enjoyable and meaningful game (to boost their ratings and make them more advertising
$$$$, of course) so the winner of the American League-National League exhibition game will host the beginning and ending games of the best-of-seven World Series. There is much gnashing of teeth (and waste of confuser bytes and newsprint) about the selection process, and WHY should an exhibition game have ANYTHING to do with the World Series.
In last week's action, the Pittsburgh Pirates were playing at the Milwaukee Brewers, and Milwaukee hosts a sausage race in the middle of the 7th inning, dressing up people as a bratwurst, a Polish sausage, an Italian sausage and just a plain ol' hot dog, supposedly for the fans entertainment1.
In a moment of playful brain-lock, Pirates' first baseman Randall Simon grabbed a baseball bat and whacked the Italian sausage at the top of the costume, causing the Italian sausage to fall, which tripped the hot dog. The two girls who were in the costumes suffered skinned knees, and Simon suffered a $432 misdemeanor disorderly conduct fine plus a
three-game suspension and $2,000 fine by the league. The two girls received autographed bats from Simon and much national publicity.
Me? I wouldn't need a costume to run as a Polish sausage.
So this is several a/k/a random, in bits and bytes, from the shore of Lake Erie, over and out.
1In Pittsburgh, they hold a pierogi race.