Through the Doughnut Hole
Created | Updated Jul 16, 2003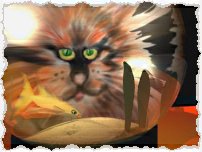 ... and now ladies, gentlemen and others, please put your hands, paws, fins, goinks1 together for another Through the Doughnut Hole!!!!

If ever you're going to be sick grab a bowl,


because you wouldn't want to miss a Through the Doughnut Hole!!

2
Please Do Not Press This Button
Hello everyone and welcome to Through the Doughnut Hole, you are such a nice audience,

and I really do appreciate all your kind words and praise. Before the show begins proper, I

would like to tell you the names of the people who entered the competition set by my Personal

Assistant Blotto last week. Not only did they enter, but they also got all the answers

correct, well done to you both. So, please put your hands together and say well done to,

Jodan and Archangel Dr

Justin. A piece of 'junk mail' is winging its way towards you by 'snail mail' and

should be with you shortly, congratulations, I hope you enjoy your prize as much as I enjoyed

sending it on. For those that are bothered with such things, you can find the answers to

'Blotto's Booger' at the end of the show.
Right, on with this weeks Doughnut Hole, and what a super, duper guest packed show we

have for you this week. The question from last time, for those that don't remember was:

What is your favourite song or piece of music?
~~~~~~~~~~~~~~~~~~~~~~~~~~~~~~~~~~~~~~~
My first guest this week is a show favourite, not only is he handsome, debonair and

outrageously funny, but he also has a kind sensitive side that reminds me very much of a

young Arnold Schwarzenegger3. He was

last on the show way back in May, so please make welcome Archangel

Dr Justin who started this conversation.
'There are just too many to choose from. Anything that I've played in a

band or orchestra, or sung in a choir, takes on a special significance of some sort or other.

Many pieces remind me of special times, or special people, or special places.

Then there are pieces that are just beautiful to listen to - but again, there are far, far to

many to pick a 'winner' from.

So, all in all, my answer is something of a cop-out - my favourite piece of music is one that I

like.'
The perfect answer really, as I have to agree that my favourite piece of music is one that

I like as well. Though maybe there are some that rise above the rest, or have a special

meaning to you when you give it some thought.
~~~~~~~~~
My second guest this week is by far the most regular guest on the Doughnut Hole, they

have appeared no fewer than five times. The wit and good humour that this person brings to

the show is renowned, and we are very pleased to welcome back the incomparable Deus Ex Machina who in same conversation said...
'My favourite piece of music is 'Journey of the Sorcerer', by The Eagles,

simply because it is The Hitchhiker's Guide to the Galaxy theme song (and a darn good one at

that)!

But let's not forget our all-time favourite piece of music...
Hey everyone let's cover ourselves in coal...
as we sit back and enjoy another Through the Doughnut

Hole!!

That is the best song ever! Really, it is.

(Who is not responsible for his bad singing.)'
Did I really introduce you by saying 'wit and good humour'? What I should have said was

'wit with slight touch or sarcastic humour' me thinks... Not that there is anything wrong with

the shows theme tune, many, many famous artists queue up for the privilege of writing one of

the shows jingles. Sometimes we have to beat them off with long poles, just to stop them

mussing up the paint work in the rabid gnawing, but that of course is another story.
~~~~~~~~~~~~~~~~~~~~~~~~~~~~~~~~~~~~~~~
My third guest this week is a multi-talented, all singing, all dancing researcher who is

always the first to the front of the queue when the tea trolley comes round. Please give a

warm Doughnut welcome to Marjin in this conversation
'Actually I do not have a specific favourite, but for almost 30 years the

songs of The Corries bring on a shiver in my spine, when they bring back the memories of

three wonderful weeks of sun in Scotland.'
I have to admit to of never heard any of the music of The Corries, but they must have

something special about them to keep a memory alive for so long. And your time in Scotland

also sounds special, thank you for sharing it with us.
~~~~~~~~~~~~~~~~~~~~~~~~~~~~~~~~~~~~~~~
My fourth and final guest this week is no stranger to this show, with his charm and wacky

sense of fun, he has delighted audiences and doctors throughout the land. He if of course my

friend and yours Jodan in this conversation
'The 'Cheers' theme song. Seriously. It's just so reassuring. I

remember this song from years and years ago, when I would watch it but not really pay

attention. But listened. Maybe it had some subliminal effects .I'm

sure Freud would have something to say about that.'
Yes I have to agree it's a wonderful song, with great lyrics and theme. Maybe in someway

it should be the h2g2 theme song, with words like, 'You want to go where everybody knows

your name.' Great choice Jodan.
Do Not Press This Button Again
It's always good solving those little problems that perplex us isn't it, makes you feel
better and that all is right with the world. That is until you think up an entirely new question

to perplex yourself with, and the idea of having to think up a question to perplex yourself

with is perplexing in itself. So to save you the bother I shall come up with a new question for

you to solve, or deliberate over and maybe another article just like this one but with

different words will spring forth from The Post and onto your computer screens.
So today's question is... roll of drums...


What is your favourite type of comfort

food?
Ahhhh, you are sitting there feeling a bit sad, and what do you reach for to make you feel

better? Chocolate, biscuits, candy, or as someone4 said when I asked them this question, 'Sausage, mash

and beans!!'
It may be naughty but nice, and we want to hear all about it. As before I will use whatever

facts, information or silliness in a future Doughnut Hole.
Of course you can also enter into any of the conversations featured on this page.
Blotto's Booger Answers
Here are the answers the last weeks little quiz set by Blotto.


We Growbag = Wowbagger
Moist Cop = spimcoot
Hard Fire Crinkled Duck = Dr Deckchair Funderlik
Zap Dr Hothad = Darth Zaphod
Borneo 2001 = Oberon2001
Exciting Rover = Vercingetorix
Old Hen Sues US = useless hound
Ewen Help April = Pinwheel Pearl
I Eat Dr & Roy = Terri & Yoda
Hindu Aces Exam = Deus ex Machina
I Told You Not To Press It
So that's it for this week, Blotto please escort all my lovely guests back to the Green Room for a spot of Marmite on Toast. See you all
next time, same Post article, same post channel!!!
This weeks article is brought to you by The Post and a pickled walnut called George.


Share and Enjoy!!
Through the Doughnut Hole
Archive
1I am not going to ask, maybe you should...
2Music by Roy Orbital, Lyrics by Vogon Takesthepeas
3If you think this is spelt incorrectly then I

might not be talking about the person you think I am talking about.
4I am with holding the name to

protect the innocent.