Summer 2003 Caption Competition - Round 1
Created | Updated Jul 18, 2003
Welcome to the h2g2 Caption Competition. Now with added results!
Over the next five editions of the Post we are going to show two photos from the recent Summer Party. All we want you to do, is to come up with a short, witty one-liner to make the Editors laugh.
If you are successful, you could win some h2g2 goodies. There are t-shirts, mousemats, mugs and pens up for grabs! Post your answer below and then pop over to have a go at Round 2.
Round 1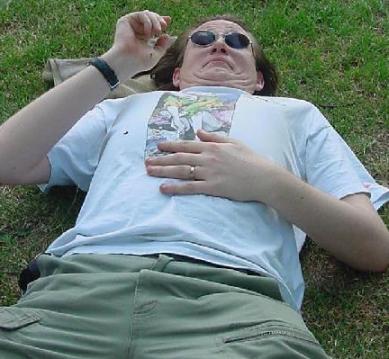 This round was judged by Mina.
If the universe is infinite, then im "a" center was judged the winner for:
Horror as the harmful rays from the sun start causing peoples' faces to melt.
Peet was hard on his heels with:
When visiting a new planet for the first time, always check the local gravity conditions before disembarking.
Niwt made us laugh with:
This is what happens if you throw yourself at the ground and don't manage to miss...
This photo was kindly donated by Munchkin