My Neighbour Totoro - the Film
Created | Updated May 21, 2003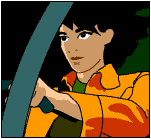 Not many of us get a chance to ride a Catbus nowadays.
True, h2g2 Researchers make more likely passengers than most, but circumstances

conspire to stifle opportunity.


Small legends are easily forgotten, after all. But the Child in You might still

recall the dustbunnies in the attic. Fantastic creatures used to scuttle beneath

a dimly-remembered outhouse. Every acorn was once a mystery. There was a time

when trees were huge, and spanned a bluer sky.


Everyone has a candidate for the greatest feel-good movie of all time. These

things play an important part in our lives. They detach us from the stress of

our obligations, and remind us of simple freedoms that are ours to claim.


On 16th April 1988, a Japanese production house called Studio Ghibli released a

film called "Tonari no Totoro" (My Neighbour Totoro). The film is an example of

Anime, and was written and directed by Hayao

Miyazaki. Miyazaki already enjoyed cult status in Japan, but it would take later

films1 to secure his fame in the West. "Totoro" runs for 86 minutes

on the screen. It runs for ever in the hearts of many of those fortunate enough

to have seen it.


It is deeply ironic that distribution of the film (along with most of the output

of Studio Ghibli) is currently restricted in the English-speaking world,

following the acquisition of the rights by Disney. The self-proclaimed champions

of the spirit of childhood seem in no hurry to release it. The cynic might

conclude that Disney know all too well that they will never themselves make a

film as beautiful as this one.


The story is set in Japan, in a recent past, perhaps the late 1950s or early

1960s. Professor Kusakabe has bought a house in the country, since his wife

(still in hospital) must recuperate from her illness. Their daughters, Mei and

Satsuki, explore a new world with a mounting sense of amazement. Mei is about

four, spirited and truculent. Satsuki is around ten, patient beyond her years,

unconsciously acting as mother to her headstrong little sister. The creatures

that they meet may or may not be real, but the sisters' experiences perfectly

depict an idyll that we have all forgotten.


You probably think of Japanese animation as arcane. If it appeals at all, it

does so through a white-knuckle ride for the imagination, through the

exhiliration of the extreme. But Miyazaki is its Master, untrammeled by the

conventions of his medium. In the world of Totoros, portent and pretention give

way to the wide-eyed wonder of children, and manic energy is replaced by the

relentless burgeoning of nature.


Look up into the camphor tree. Share an umbrella in the rain. You can remember

all this if you only try. Look for that place in your past when you huddled in a

soft embrace, and could fly at will. At one and the same time. There is no

contradiction here. No complication. Just perfect innocence and quiet delight.


You are almost ready now. The Catbus is coming. All you have to do is close your

eyes and wait with the patience of a child.

1'Laputa: Castle in the Sky', and 'Kiki's Delivery

Service'