The Hootoo Home of Today
Created | Updated Oct 2, 2010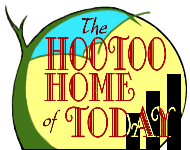 More words of wit and wisdom from days gone by! It's a bit of a struggle to write this at the moment; I seem to be suffering from 'the mother of all colds'; wondering if biological warfare has finally arrived in my little Hootoo Home? Let's see what advice I can find in:
'The Home of Today'
Colds - treatment for
'Colds are wrongly named, for they are primarily caused by living and breathing in hot, stuffy rooms, or inhaling infected dust.
People suffering from colds should go to bed at once, and remain there for a day or two until the worst and most infectious symptoms have subsided.'
This sounds good to me! But is my bedroom suitable I wonder?
'Single beds are now almost universally the custom, not only for convenience, but also for health reasons. Iron and brass bedsteads, although still used in hospitals on account of the ease with which they can be disinfected, and also in night nurseries and servants' bedrooms, have been superseded of late years by bedsteads made of wood and steel.'
But if you do fancy a bit of company...
'Four-posters have returned to favour within recent years, but on more hygienic lines than their predecessors of the Middle Ages. The curtains which our ancestors were wont to draw completely round the bed, shutting out light and air, are not now retained. Special mattresses must be procured for this type of bed.'
And possibly bedding? At least we seem to have taken this to heart:
'The duvet or down-filled quilt resembling a small feather bed, which is so popular on the Continent, is scarcely ever seen in this country, its place being taken by a much flatter and less ponderous covering.'
I suppose I should eat something, but I really don't feel up to it. Let's see what the Home of Today has to say about this.
Sickroom Cookery
'Those who have charge of an invalid's diet should study to arouse the appetite both by careful preparation of the food and by the daintiness with which it is served, for appetite is influenced by sight and smell as well as by taste. All the appointments of an invalid's tray, therefore, should be spotless.

Moreover, an invalid in the convalescent stage is often a perverse being, likely to wish for another helping if the smallness of the first suggests a doubt as to its possibility. Serve one course at a time, and if it can be so arranged, let each one come as a surprise. More cures are wrought by surprises than those in normal health dream of.'
I couldn't agree more; but nonetheless, I think I'll spare you the decidedly gory details of the 'savoury way of making beef tea' and consult another fine tome on the subject of liquid beverages!
This one was published around 1907 by The Honourable WT (Cocktail) Boothby; who was the 'Premier Mixologist' in San Francisco. His book is titled
The World's Drinks and How to Mix Them

I get the distinct impression that there may have been a little funny business going on; since he dedicates this fine work to:
'The liquor dealers of San Francisco,
Who unanimously assisted in my election to the legislature by an unprecedented majority this work is respectfully dedicated...'
Hmm, some things never change! However, he was obviously a well-educated chap, quoting from Shakespeare:
Let me play the fool;

With mirth and laughter let old wrinkles come;

And let my liver rather heat with wine

Than my heart cool with mortifying groans.
Sentiments which will no doubt appeal to many hooters! Amongst his recipes is this one; I can think of a few places it might prove popular!
Thirst Breaker

from CW Steven's famous book With Kitchener to Khartoum.
'Into the largest glass procurable pour a large drink of equal parts of French vermouth and Gordon gin; fill the glass with a cold bottle of Sc*****es Club Soda and quaff. Lemon or lime juice is sometimes added.'
He includes numerous remedies for hangovers; if anyone tries this one at home with a pint glass, do let me know and I'll pass them on! He doesn't mention whether this should be shaken or stirred, somehow I get the impression it isn't that important! If any of you would like to test such gems as 'National Guard Punch' or a 'Grasshopper'; do sign up below.
As I said in my last article, be prepared to suspend notions of political correctness and enjoy this last one from Mr. Boothby:
Irish Half and Half
'Half fill a large bar glass with whiskey, then fill the other half with whiskey (any kind of whiskey will do), hand the patron a bath tub, towels and soap and charge wholesale rates.'
Well, I did promise to alert you to 'The Dangers of Unclean Money' and let you know how to 'Electrify the Grandfather' this week, but I seem to have digressed. Nonetheless, I realise there are those of you out there who have barely been containing themselves; so I shall put you out of your misery. Here it is.
Rubber in The Home
'A stroll through the house of the future will disclose the numerous ways in which rubber lends itself to the equipment of the modern home.

The cost of rubber flooring has decreased substantially within recent years, and today there is a grade of rubber flooring to suit every purpose and every purse.

Rubber accessories of the living-room include various parts of the wireless set, for even valve-holders are now made completely of soft rubber. Rubber, too, of late years, has invaded my lady's dressing-table in various designs of silver-coated ebonite toilet sets, which have rubber as a foundation.

The great variety of rubber clothing now obtainable should perhaps find mention here...'
No, no, I can't take any more; this is all too much for an invalid!
It will have to wait till next weeks exciting installment of:
The hootoo home of today!'
The Hootoo Home of Today Archive