A Baby Doctor Writes...
Created | Updated Mar 27, 2003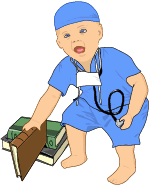 Monday morning is a teaching session with Dr Darth Vadar, Prince of Darkness MBBS FRCP, clad in our cleanest white coats our group of six assemble on the ward, with a feeling of dread at the coming humiliation. After ten minutes of waiting the girls are wondering if the new junior Doctor is married.
He arrives with a deathly swish, twenty-five minutes late, and ushers us around to stand around a bed. The elderly patient looks slightly bemused when we all attempt to stand as far away from Dr Vadar as possible, avoiding eye contact, praying that he will pick another person.
'You,' he points, 'what's your name again?, this is Mrs Jones she was brought into hospital yesterday with shortness of breath, can you examine her and tell me why?'
The condemned man steps forward, the rest of us breath a sigh of relief that today, it is not us. Nervously he begins to examine Mrs Jones, after a couple of seconds The Prince of Darkness pounces and demands, in a voice cooler than liquid nitrogen
'You, what on earth are you doing?' the student freezes, 'You listen to the apex over the fifth intercostal space, not the fourth'
The student continues to listen to the chest of the bemused patient, who seems to be feeling more intimidated than the student, if it were to be possible. Once he has finished he mutters a quick description of what he thinks he's heard, desperate to escape the attentions of the consultant whilst still alive. Alas he is not so lucky, a barrage of questions follows, he managed to garble answers, too nervous to think things out logically.
The medical school would like to pretend that people like Dr Vadar don't exist anymore, that they are a remnant of the old days, disappearing along with dissection 1. They haven't realised that not everyone noticed their memo telling people not to teach by humiliation.
But I can't help thinking - and this is an extremely unfashionable thing to think - that a lot can be said for the old methods. There are worse teachers than those who embarrass you a little, there are those that cancel an afternoon teaching session with five minutes notice, those that talk in a way that makes no sense at all about things that we're not expected to understand yet. And whilst we're all supposed to learn for the love of learning, the fact that I know I'm going to be asked about Infective endocarditis made me spend a few hours in the library instead of my bed. A lot can be said for negative motivation.
A Baby Doctor Writes - Archive
1Medical students no long cut up dead bodies - shame.