Ivor Cutler - Writer and Humourist
Created | Updated Apr 9, 2006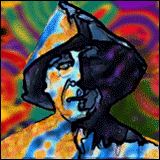 Ivor Cutler was a man of many talents being equally a poet, an author, a humourist, a songwriter, a singer, an actor, a recording artiste, a raconteur, a teacher, an octogenarian1, a 'friend of the stars' and an 'harmonium player'.
Ivor Cutler was born in Ibrox, Glasgow on 15 January, 1923. Despite the austerity of growing up in a large Jewish family, Ivor has fond memories of his childhood, and his reminiscences would later provide the basis for his book and album Life in a Scotch Sitting Room, Vol. II. In true Ivor Cutler style, there was never a Vol. I.
The piano candles lit, we cleared our throats and launched into 'Loch Lomond'.
Several notes were missing. They had always been missing, except for two which I had levered out with a poker.
'Loch Lomond' was in E flat, so half the tune was missing.
- Life in a Scotch Sitting Room, Vol. II, Episode 9
Always a creative child, Ivor decided at the age of 15 to become a composer. However, World War II intervened and in 1940 he took his first job, as an apprentice fitter making Spitfires. The following year he joined the RAF where he trained as a navigator, but was dismissed in 1942 for being 'too dreamy and absent-minded'.
After the war, Cutler trained to become a teacher and joined the staff of AS Neill's Summerhill, an unusual school 'where staff and pupils live as equals in a democratic, self-governing community', the upshot of which is that the children don't have to attend lessons if they don't want to. Ivor taught there from 1950-51, before moving on to the Inner London Education Authority, with whom he continued to work until 1980.
While holding down a 'proper' job to support his wife and children, Ivor continued to search for a suitable outlet for his creative muse. During his teacher training he had decided to become a painter, but despite taking lessons at Glasgow School of Art, he soon became disillusioned with his tutors' attempts to channel his creativity along conventional lines. Instead he returned to his childhood love of music and began to write songs, as well as prose and poetry.
In 1957 the BBC invited him to perform some of his poems and stories on the Home Service2. The works were unusual, often surreal, invariably delivered in his deadpan Glaswegian brogue, and generally accompanied by the wheezing sound of a pedal-driven harmonium, played by Ivor himself. Radio remained an important medium in Cutler's career; he recorded his first session for John Peel in 1969, and was a semi-regular contributor to Peel's shows for many years.
Why don't you sit down and shut up? Can't you see I'm writing your Auntie Mildred a poem for her wooden anniversary?
- 'The Shapely Balloon'
In 1967 Ivor recorded the album Ludo with his occasional group, The Ivor Cutler Trio. Produced by George Martin and released on the Parlophone label, it brought him to the attention of John Lennon and Paul McCartney, who offered him a part in the film the Beatles were making that year. Ivor accepted, and took on the role of Buster Bloodvessel in Magical Mystery Tour.
Cutler remained active in his later years. He wrote children's books as well as collections of poetry and prose; recorded albums for such influential labels as Virgin, Rough Trade and Creation; and continued to record radio sessions for John Peel and Andy Kershaw. In February 2004 a frail looking Cutler gave a farewell performance of poems, songs and stories at London's Queen Elizabeth Hall. Highlights from the show were later broadcast on BBC Four under the title Cutler's Last Stand as an accompaniment to a documentary, Ivor Cutler: Looking For Truth With A Pin.
Ivor Cutler died in 2006 at the age of 83.
I'll leave you with this thought.
No, I won't. It would not be fair.
- 'No, I Won't.'
Bibliography
Poetry
Many Flies Have Feathers (1973)
A Flat Man (1977)
Private Habits (1981)
Large et Puffy (1984)
Fresh Carpet (1986)
A Nice Wee Present From Scotland (1988)
Fly Sandwich and Other Menu (1991)
Is That Your Flap, Jack? (1992)
A Stuggy Pren (1994)
A Wet Handle (1996)
South American Bookworms (1999)
Under The Spigot (2002)
Prose
Cockadoodledon't! (1966)
Life in a Scotch Sitting Room, Vol. II (1984)
Gruts (1986)
Fremsley (1987)
Glasgow Dreamer (1990)
Children's
Meal One (1971)
Balooky Klujypop (1975)
Elephant Girl (1976)
The Animal House (1977)
The Vermillion Door (1984)
The Pomegranate Door (1984)
Herbert the Chicken (1984)
Herbert the Elephant (1984)
Herbert the Question Mark (1984)
Herbert the Herbert (1984)
One and a Quarter (1987)
Herbert: 5 Stories (1988)3
Grape Zoo (1991)
Doris the Hen (1992)
The New Dress (1995)
Miscellaneous
Befriend a Bacterium (1992)
Discography
Albums
Who Tore Your Trousers? (Decca, 1961)
Ludo (by The Ivor Cutler Trio, Parlophone, 1967; re-issued on Rev-Ola, 1997)
Dandruff (Virgin, 1974)
Velvet Donkey (Virgin, 1975)
Jammy Smears (Virgin, 1976)
Life in a Scotch Sitting Room, Vol. II (Harvest, 1978; re-issued on Rev-Ola, 1995)
Privilege (by Ivor Cutler and Linda Hirst, Rough Trade, 1983)
Gruts (Rough Trade, 1986)
Prince Ivor (BBC Radio 3 sessions, Rough Trade, 1986)
The Peel Sessions (Rough Trade, 1989)
A Wet Handle (Creation, 1997)
A Flat Man (Creation, 1998)
An Elpee And Two Epees (Decca, 2005)
Singles and EPs
'Ivor Cutler Of Y'Hup' (Fontana, 1959)
'Get Away From The Wall' (Decca, 1961)
'I Had A Little Boat/A Great Grey Grasshopper' (by The Ivor Cutler Trio, Parlophone, 1967)
'Women Of The World' (Rough Trade, 1983)
1As of January 2003, anyway.
2The Home Service was the equivalent of today's Radio 4.
3An anthology of the previous four Herbert stories plus a new title: Herbert the Kangaroo.