I wish I could think of a witty title...
Me
Hi, I am Fred Smith. But I'm not. My Real Life name is Joe Norwood. Yes, I have two dull names. Thats just the way it worked out. I go to Sixth Form College in Nottingham now. I am sixteen, single and Christian.
I've moved my links and added to them here
Stuff
I am a proud citizen of the Aerican Empire. Which is fun. Aerica is a nation dedicated to sillyness and our major religion worships Forsteri, the Great Penguin. Pay us a visit!
Things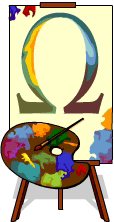 The conversations I've subscribed to.

The Ministry of BLACK

| | |
| --- | --- |
| | ALABASTER - goo down the loo |
After Ehud came Shamgar son of Anath, who struck down six-hundred Philistines with an ox-goad. He too saved Israel.

--Judge 3:31
Emoticons and images
Nuke Symbol:-
Negative Smiley:-
The Omega symbol (it's been my symbol for four years now, I can barely remember why I decided to use it:-
Twinkle (U153916) made the smiley creator tool that I used which can be found on this website.
Subscriptions
Title
Status

Created

This user has no Entry subscriptions