The ICC Cricket World Cup
Created | Updated Mar 19, 2004
SPORTING WITH EGON
presents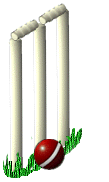 The ICC Cricket World Cup

2003
WEEK ONE
Canadian Victory, Zimbabwe protests, to play or

not to play?, Lara back to his best and Dutch courage,

among other news from week one of the 2003 ICC Cricket

World Cup.
Stories Surrounding The World

Cup
Before I get into the details of the week's action on

the cricket field, a brief look at the more interesting

stuff going on off the field.
Before the World Cup started, New Zealand withdrew from

their game against Kenya on the grounds of a terrorist

threat, although they are now reconsidering that

decision. England, however, have been dithering about

wehether to play their opening match against Zimbabwe in

Harare or not, and this week finally decided not to, but

the whole kerfuffle over whether to take part really was

farcical, and is described well in the news item titled a never ending farce on the

BBC Sport website.
Interestingly, two Zimbabwean cricketers, Andy Flower

and Henry Olonga, wore black armbands during the sides

opening game as an act of protest against the actions of

the Mugabe government. More detail on that here.
Not all the off-field news has concentrated on politics

though. Legendary Australian Leg-spin bowler Shane Warne

was sensationally sent home on the eve of the Aussies'

opening game after failing a drugs test. The Australian

Cricket Board (ACB) said Warne had tested positive for the

drugs hydrochlorothizide and amiloride, both of which are

diuretics which were part of Warne's slimming supplement.

However, they can also serve as masking agents to hide

traces of performance-enhancing drugs, and are banned in

cricket for just that reason. Warne had already announced

that he would retire from one day internationals after the

World Cup in order to concentrate on test cricket, but he

may be forced into retirement from both forms of cricket

if his 'B' sample also tests positive, as he could face a

two-year ban from the ACB.
Tournament Format
So, aside from drugs and politics, the first week of

the cricket World Cup also threw up some games of cricket,

which I shall sum up after explaining the overall format

of the tournament... The World Cup is split into two

groups of seven for the first stage, with the top three

from each group going into what is called the 'super six'

phase, where the teams then play the qualifiers from the

other first round group, while carrying forward their

results against the other qualifiers of their own group.

The top four from this 'super six' then play the semi

finals, 1st v 4th and 2nd v 3rd, with the winners of the

semifinals (unsurprisingly) playing the final.
I hope that made sense. If not, have a look at this.
The Matches
Sunday February 9th - West Indies beat South

Africa by three runs, Cape Town

A nice start to the tournament as second-favourites

South Africa suffer a narrow defeat at the hands of the

West Indies. The Windies batted first, and found

themselves in deep trouble at 7-21, before Brian Lara did a bit of what he's best

at, stabilising the innings with Shivnarine Chanderpaul,

and hitting a cracking century. Lara's 116 off 134 balls

was backed up by good solid innings from Chanderpaul,

captain Carl Hooper2, Ricardo Powell

and Ramnaresh Sarwan. None of South Africa's bowlers

really managed to assert themselves on the game, and the

Windies ended with 278-5 from their 50 overs. Penalised

due to a slow over rate, South Africa only got 49 overs in

which to reply. South Africa, led by a good 69 by opener

Gary Kirsten, and a beligerent 57 from Lance Klusener,

looked to be well and truly in with a fight. And so to

the last over, six balls of one day cricket at it's best.

South Africa needed 8 to win, with. Klusener was caught

on the boundary trying for a six, but he and Nicky Boje

had failed to cross, leaving new batsman Makhaya Ntini on

strike. With South Africa needing eight runs from two

balls, Ntini tried for a six, and was caught on the

boundary, leaving last man Allan Donald needing an

impossible eight runs off Vasbert Drakes' last ball. A

leg-bye four was the result. A nailbiting climax to an

exciting match. If anyone had been writing Brian Lara and

his West Indian team off as a spent force, they surely

won't be doing so any longer.

Monday February 10th - Zimbabwe beat Namibia by

86 runs (D/L method), Harare

Zimbabwe's fifty overs yielded a magnificent 340-2,

with opener Craig Wishart getting a national record one

day international score of 172 not out. Anmibia had

struggled to 104-5 after 25 overs and one ball before the

remainder of the match was abandoned due to rain.

Zimbabwe won by 86 runs under the Duckworth/Lewis Method,

a truly bewildering system which works out winners using

statistical tables. One of my favourite cricketing

stories regards England playing a one-day international in

Zimbabwe (in the days when it was safe for them to do so).

Graeme Hick and Mark Ealham were batting, and realised

that rain was coming. Hick, who admits to failing O-Level

maths, got the table out of his pocket, traced along with

a pencil, worked out that England would lose if it rained,

had a chat with Ealham, and then scored sixteen runs off

the over to get England ahead on the D/L method. No such

heroics were possible for the Namibians. It was in this

match that Olonga and Flower made their anti-government

protest, wearing black armbands to mourn 'The death of

democracy'. This start, added to another four points

which Zimbabwe may get when England fail to play in

Harare, puts Zimbabwe in a useful position early

on.

Monday February 10th - Sri Lanka beat New Zealand

by 47 runs, Bloemfontein

Sri Lanka cruised to victory in this game, thanks in

large part to a second wicket strand of 170 between Sanath

Jayasuriya (who scored a total of 120) and Hashan

Tillakaratne, who went on to score an unbeaten 81.

All-rounder Nathan Astle was New Zealand's best bowler

with 3 wickets for 34. New Zealand's chase was an abject

failure. With the exception of Scott Styris's brilliant

141 from 125 balls, Chris Cairns' modest 32 was the only

score worth mentioning. Sri Lankan all-rounder Russel

Arnold took three wickets, including that of Styris, and

Muttiah Muralitharan and Patashi Gunaratne took two each,

as the 1996 World Champions showed they still have a

quality side capable of going quite some way in this

year's competition.

Tuesday February 11th - Australia beat Pakistan

by 82 runs, Johannesburg

Defending champions Australia, reeling from the

departure of bowler Shane Warne, claimed an easy victory

over Pakistan, but they had to fight after slipping to

52-3 early on. It was 86-4 when English-born all-rounder

Andrew Symonds came in to bat. Symonds then played a

truly fantastic innings, battering an unbeaten 143 from

125 balls. Other than Symonds, only captain Ricky

Ponting, with 53, really performed to anything approaching

the standards expected of Australian batsmen. Towards the

end Pakistan captain Waqar Younis fell foul of 'dangerous

bowling' rules, when he was ordered out of the Pakistan

attack for bowling two beamers around Symonds's head.

Pakistan's most successful bowler of the match was veteran

fast-bowler Wasim Akram, with 3-64. Thanks to Symonds and

Ponting, Australia finished with 310 from their 50 overs.

Aussie all-rounder Brad Hogg, now the main spinner after

Warne's enforced absence, took three Pakistan wickets,

while Gloucestershire captain Ian Harvey took four with

his medium pace. Pakistan never really got going with the

bat, and their joint top scorers were wicketkeeper Rashid

Latif and bowler Wasim Akram, batting seventh and eighth,

who led a bit of a rearguard action as Pakistan tried, but

failed, to assert themselves on the match. They were

eventually disamissed for only 228 from forty and a half

overs. Even lacking the potent spin of Warne the

Australians, who look likely to replace him in the squad

with veteran leg-spinner Stuart McGill, are looking pretty

fearsome, and deserving of their tag of

favourites.

Tuesday February 11th - Canada beat Bangladesh by

60 runs, Durban

Bangladesh must have fancied their chances of ending

their 26-match one day international losing streak against

the first Canadian team to compete in World Cup cricket

since the inaugral World Cup of 1975. This confidence

must have turned to expectation as the Canadians were

dismissed for 180 with five balls to spare. Tidy bowling

by the Bangladeshis, in particular Sanwar Hossain and Alok

Kapali meant that only Ian Bicliff could put together an

innings of any substance for the Canadians. But once Al

Sahariar was dismissed for just nine, leaving Bangladesh

on 33-1, the side imploded. Shariar's opening partner

Hannan Sarkar and all-rounder Sanwar Hossain, with 25

each, joint top-scored as Bangladesh collapsed to an

embarrassing 120 all out from only 28 overs, Austin

Coddington leading the impressive Canadian bowling attack

with figures of 5-27.

Wednesday February 12th - South Africa beat Kenya

by 10 wickets, Potchefstroom

The Kenyans found themselves steameollered by the South

Africans, who made up for their opening day defeat in

style, skittling Kenya for 140 from 38 overs before

waltzing to 142 without loss from only 21 overs. The only

Kenyan performance worth mentioning is Ravindu Shah's 60

with the bat before being run out. Shah was run out by

All-rounder Lance Klusener, who was in imperial form with

the ball, taking 4-16 from his 8 overs. Herschelle Gibbs

(87 not out) and Gary Kirsten (52 not out) both indulged

in a bit of showboating en route to victory, Gibbs hitting

four sixes and the duo hitting a total of 25 boundaries

between them. The question is whether, throughout the

reamaining group games, South Africa will play like they

did today or whether, when presented with a challenge,

they'll be outfought as they were against the West Indies.

Only time will tell.

Wednesday February 12th - India v

Netherlands, Paarl

The Netherlands got off to a fantastic start,

all-rounder Tim de Leede taking four wickets as the

Indians failed to perform with their customary panache

with the bat. India struggled to 204 all out from 49

overs, the legendary Sachin Tendulkar the only of their

batsmen to pass fifty. The Dutch batsmen failed to

capitalise on their team's fine fielding display, their

total of 136 all out actually representing something of an

improvement from a position of 54-7. The bowling of

paceman Javagal Srinath and leg-spinner Anil Kumble, with

four wickets each was too much and the Dutch succumbed to

a 68-run defeat.
Group A Table
Teams
Performance
Rank
Team
Points
Won
Lost
Draw/ Tie/No Result
Net

Run Rate
1.
Zimbabwe
4
1


0
0
3.42
2.
Australia
4


1
0
0
1.55
3.
India
4
1
0
0
1.36
4.
England
0
0
0
0
0.00
5.
Netherlands
0
0
1
0
-1.36
6.
Pakistan
0
0


1
0
-1.55
7.
Namibia
0
0
1
0
-3.42
Group B Table
Teams
Performance
Rank
Team
Points
Won
Lost
Draw/ Tie/No Result
Net

Run Rate
1.
South

Africa
4
1
1
0
1.75
2.
Canada
4
1
0
0
1.20
3.
Sri

Lanka
4
1
0
0
0.94
4.
West

Indies
4
1
0
0
0.05
5.
New

Zealand
0
0
1
0
-0.94
6.
Bangladesh
0
0
1
0
-1.20
7.
Kenya
0
0
1
0
3.86
Egon
1NB. I am

English, therefore I am giving scores in the English form

as opposed to the Australian form, which some of my

readers may be more familiar with. The 'English form' is

runs-wickets. the 'Australian form' is wickets-runs.

Therefore, when I say 7-2 I mean 7 runs, 2 wickets. OK?


2A player I have always had an

affinity for, partly due to the fact that in the first

cricket match I went to, he scored a century from 72 balls

in a county championship match