Sporting With Egon
Created | Updated Mar 19, 2004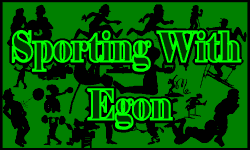 your faithful sports reporter returns bearing news of cricket, football of both Association and American varieties and tennis.
Is The Cricket World Cup Going to Turn Into a Farce?
In the two months since my last column, a whole furore has erupted over the 2003 Cricket World Cup. Now, I should explain that the Cricket World Cup has a tradition of being played mainly in one country, with a few neighbouring countries hosting a small number of matches 1
So, this year's hosts South Africa decided to let Zimbabwe play all six of their first round games2 in the Zimbabwean cities of Harare and Bulawayo, while Kenya were allowed to host their games with New Zealand and Sri Lanka in Nairobi
Now, last year everyone was happy with this arrangement, but gradually doubts began to surface about the wisdom of playing cricket in Mugabe's Zimbabwe, and the British government began to put pressure on the ECB 3 to pull out of their game in Zimbabwe. The Australian and New Zealand governments and cricket boards also questioned the safety and security, but the ICC4 passed the standards of security in the country as good. The ECB however, were still being pressured by the government to pull out, but the government refused to help the ECB deal with any financial implications which may arise from a boycott. So the ECB decided to go ahead with the match.
But then it all kicked off. The Australian High Commissioner advised the ACA and ACB 5 that he was unconvinced about the safety and security levels, so the Aussies started umming and aahing about whether to go. Then, the England players received letters from Zimbabwean opposition groups threatening that there would be protests at the matches, the players may be at risk and the police could not guarantee that they would act with 'minimum necesary force'. The England players then, through PCA6 chairman Richard Bevan, requested that the ECB consider pulling out. The Aussies then decided they would play unless the situation got worse, but before that the New Zealanders pulled out of their match in Kenya because of worries over terrorism, understandable as the New Zealand team had been in close proximity to two terrorist atttacks last year in Pakistan and Sri Lanka. At the time of writing (4.50 pm GMT, Wednesday 5th February) the ICC had not responded to the ECB's request for their match in Harare to be moved to South Africa.
However, with New Zealand forfeiting their match in Kenya, and the possibility of either or both England and Australia taking similar action over games in Zimbabwe, is the World Cup risking a descent into farce? If the ICC don't move the games, and the teams boycott them, points will end up being awarded for games which haven't taken place - politics is invading sport. Should England be playing cricket in a vicious, totalitarian dictatorship? Probably not. But no-one complained when Zimbabwe competed in last years commonwealth games in Manchester. The government doesn't criticise British businesses which trade with Zimbabwe. Is cricket being singled out? I believe the sport is being made a scapegoat for government inaction against Mugabe. The game probably won't go ahead, in my opinion, due to the threats made to the players. But the hypocrisy and cowardice shown by the government should be noted.
The cricket world cup begins this weekend, so look out for my reports over the next month. Lets hope England win at least a couple. I mean surely even England can beat Namibia and Holland, right?
Football Matches I Went to Last Month
As I'm sure at least some of my regular readers (I must have regular readers, right?) may know, in addition to my life as an armchair sports fan I occasionally venture outside to cricket or football matches, and when I do I let you all know in this column. Well, in January I attended two matches at opposite ends of the football spectrum.
Firstly, I mosied on down to Goodison Park to see my beloved Everton, who are doing surprisingly well this season, take on Sunderland (the city in which I attend university). And Everton really dominated. I am glad I'm not a Sunderland fan, as many of their players are showing a level of commitment and skill that even Everton would have been ashamed of at their lowest ebb. Sunderland 'keeper Tommy Sorensen made a couple of good saves, Everton's Alan Stubbs headed over the bar twice and Everton's North American strike partnership of Tomasz Radzinski (Canada) and Brian McBride (US) played havoc in the Sunderland box early on. Unfortunately Sunderland got a break late in the first half and Kevin Phillips played Kevin Kilbane in for their first real chance, and he gave them a 1-0 lead, at the end where I was sitting. Into the second half, and fortunately the action was still up my end, McBride scoring twice, one an overhead kick from a Scot Gemmill cross, the other a good shot on the turn from a ball by Radzinski. A 2-1 victory made everyone happy, and I should just mention that Everton's Steve Watson, recently converted from a right-back to right midfielder has been in fantastic form lately, with five goals in six games including an astonishing overhead kick in a victory over Bolton.
The other match I attended was a slightly smaller affair compared to the £20 a ticket, all seater premier league clash. On an impulse, during a drunken weekend in Lancaster (of which, more later), a friend and I decided to go to Christie Park in Morecambe to see Morecambe play Hereford. Morecambe were 3-1 winners in a game in which Hereford contributed a hilarious own-goal and a foolish red-card, while Morecambe dominated. However, the match isn't what I want to mention - it's the atmosphere, and the attitude. Just two weeks after being one of 40,000 in Goodison Park, I paid £8 to be one of 1,500 at Christie Park. The football wasn't as good, but the Bovril was cheaper, we got to stand on terraces (no longer allowed in the Premier League for safety reasons), and the players played with a real passion and commitment. The part-timers of Morecambe and Hereford put some of the highly-paid Prima Donnas in the Sunderland team (Tore Andre Flo - you know who you are) to shame with their constant runnning and efforts to win the ball and so on. Also, the fact that a sizeable number of fans made the trek from Hereford to Morecambe to watch a game of Conference football7. The whole day was a wonderful experience which demonstrated that there really is good, competitive football a long way outside the Premier League, and what the players lack in ability they make up for in sheer effort and commitment. Both Morecambe and Hereford are in contention for promotion to Division Three, so hopefully we'll be seeing the likes of Lee Elam, Adriano Ricolioso, Ryan 'Zico' Black and Wayne Curtis playing league football.
Other English Football
As I've mentioned, Everton are doing surprisingly well (5th) and Sunderland are presently devoid of effort, commitment and tactics (oh, and they're bottom of the league). Everton also suffered an embarrasing FA Cup exit against third division Shrewsbury. The fifth round of the FA Cup has, however, thrown up a killer tie between premier league top two Arsenal and Man United. Elsewhere in the Premier League, other teams are finding it hard to keep up with Arsenal and Man U. Newcastle are five points behind Man U and 8 behind Arsenal, while Chelsea and Everton are a further three points back, with Liverpool another three back. The main contenders for relegation to the first division are Sunderland (no way out), West Ham (looking pretty bleak), West brom (I don't fancy their chances), Bolton (really not looking good) and Birmingham (transfer window signings Duggary, Clemence and Upson should help them to achieve safety). Only three of them will go down, and I'm just thankful that Everton are an unusually long way from the whole kerfuffle.
Also, trouble at Leeds. Chairman Peter Ridsdale forced manager Terry Venables 8 to sell England internationals Jonathan Woodgate and Robbie Fowler. Leeds had already sold Robbie Keane, Rio Ferdinand and Lee Bowyer, and sent Olivier Dacourt out on loan since 'El Tel' took charge. The sales took place to help cut the debt built up by previous boss David O'Leary. There have been fan protests and rumours that Venables is considering his future. Also, Leeds defender Lucas Radebe managed to injure his knee putting the garbage out.
Worthington Cup - Liverpool will play Man United in the final of the much-maligned tournamnet often ridiculed as the 'Worthless Cup'. United normally field weakened line-ups in this least important of the major trophies they enter, but this year, realising how competitive the Premier League is getting, Sir Alex Ferguson has apparently realised that he should try and win everything he can.
The Superbowl
Having spent Christmas in Boston, Massachussets, I have really started to get into American Football, and took in the Superbowl in rather eccentric manner.
The superbowl co-incided with Australia Day, and my friend and I were still in Lancaster as it was the day after the Morecambe game. We decided to nip down the local branch of 'walkabout'9, for a few beers, and return to the house in time to watch the superbowl on Channel 5 on a digibox. However, we soon got involved in drinking way too much (if you bought five bottles of Fosters you got a silly floppy top hat with the Aussie flag on). So, a couple of hours and several bottles of Fosters, VB and pints of XXXX later, we noticed that the TV in Walkabout was showing the sky coverage, which revealed the bizarre fact that T4 presenter Dermot O'Leary used to play Wide Receiver for the Ipswich Cardinals. It soon became obvious that Oakland were going to take a battering off Tampa Bay. The second half, we watched on Channel 5 back at the house, 5 confusingly had their show co-hosted by the singer Seal. Their main host, Mark Webster, was in San Diego at the Superbowl, and was joined by such football experts (!) as Eric Idle (Monty Python) and Jane Seymour (Dr Quinn Medicine Woman), for no readily apparent reason.
Anyway, enough from me, lets see what my American football correspondent Several a.k.a. Random had to say:
Egon asked me if I would write something for his h2g2 sporting column in the Post about the American semi-ovoid football championship game, titled by the powers-that-be as the Super Bowl with somesuch Roman numerals. I dunno, I've been watching them since 1966 and math is NOT a strong subject of any interest. Neither is anything about the game, in which the Tampa Bay Buccaneers defeated the Oakland Raiders 48-21. It was never even close. The commercials and halftime show were more entertaining than the contest itself.

Last offseason, Oakland let its' head coach, Jon Gruden, change places to Tampa, with Oakland getting draft choices and money in compensation. Gruden's new team beat the living bleep out of Oakland from the get-go. Think ownership in Oakland is kicking each other's butts for letting him go? No, not really, yet. Those high draft choices could make it a good long-term deal, but on the short term, the Raiders got beat every which way but loose, and Clint Eastwood wasn't even there.

Over here, across the pond from most of y'all, it's college basketball season, but it's too early for me to have comments on it, just as it is way too early for me to comment on baseball. The NooYawk Yankers can afford anything they think they want, and have been using the rest of Major League baseball as its development teams for longer than I know, but I'll try and have some comments on college b-ball later in the month, and a baseball preview in March sometime.

several a/k/a random out, trying to stay warm.
Australian Open Tennis
At the Australian Open Tennis, Kim Clijsters came frustratingly close to knocking World No.1 Serena Williams in the Women's Singles Semi-Finals, and my personal favourite tennis player, Justine Henin-Hardenne, she of the divine backhand, was pummelled in her Semi by Serena's sister Venus. Serena won the final in three sets.
The men's singles was far less predictable: World No.1, Aussie favourite, and boyfriend of Kim Clijsters, Lleyton Hewitt, was knocked out in the fourth round by Moroccan veteran Younes El-Ayanoui. El-Ayanoui then took on American youngster Andy Roddick in the quarter-finals, in one of the most magnificent grand slam tennis matches ever, which finished in the longest fifth set ever, which went to 21-19 in Roddick's favour. Roddick said afterwards that he had new respect for El-Ayanoui, who he had rarely spoken to before, but now had a magnificent shared experience with. Unfortunately, Roddick was still suffering from the after-effects of that marathon when he took on German 31st seed Rainer Schuttler in the semi-finals, and Schuttler won in four sets before being torn apart by Andre Agassi in the final.
And a quick mention for the legendary Martina Navratilova, who along with Leander Paes, won the Mized Doubles title by beating another doubles legend Todd Woodbridge and his partner Eleni Danilioudou in the final. 46-year-old Navratilova has now (I believe, I'm not certain about this, if anyone wants to correct me) won more grand slam titles than anyone else and (and I *know* this) has become the only player to win Women's Singles, Women's Doubles and Mixed Doubles at all four Grand Slam tournaments10.
Fantasy Football 2003
...is in it's third week. Feel free to join in at A862607
Egon
1For example, in previous World Cups Australia gave a couple of games to New Zealand and England allowed games to be played in Wales, Scotland, Ireland and the Netherlands.
2Against Namibia, England, India, Australia, the Netherlands and Pakistan
3England and Wales Cricket Board
4International Cricket Council
5Australian Cricketers Association and Australian Cricket Board, are all these acronyms becoming too much for you?
6Professional Cricketers Association - that's the last one, honest
7Note on English football: The top level is the Premier League. This is followed by the Nationwide League, so named not because it is nationwide (although it is) but because it is sponsored by the Nationwide Building Society, which is split into three divisions (there is annual promotion and relegation between the divisions, and between division one and the Premier League). They are all professional leagues. The Nationwide (building society again) Conference is a semi-professional level just below Division Three. Below that are regionally defined amateur leagues.
8Also known as 'El Tel' due to his time as Barcelona manager
9A chain of Australian theme bars
10Australian Open, French Open, All England Open Championships (Wimbledon) and the US Open