Ask Mr. Thinker
Created | Updated Dec 11, 2002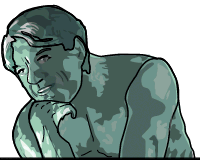 Ah, a second edition. How wonderful, to see the questions of the world, or at least a segment of it, before you, like little presents that you know don't contain clothing. It warms my heart so.
But enough chit-chat! On to the questions, and the puzzling and astonishing idea that I may actually be honest on a few of them...
Dear Mr. Thinker,
Why do toasters have a setting that burns bread?
-This is because there is, out there, somewhere, a target market that will never figure out that there is a darkness setting at all, which means a never-ending trail of burnt bread and "broken" toasters. Which aren't under warranty, as they have been exposed to the open air, which, as we all know, voids most warranties immediately.
These people will be a consistent source of revenue and amusement for the toaster makers and bread bakers, whose lives probably aren't all that exciting, and should not be looked down upon for this clever marketing approach.
Dear Mr. Thinker,
If vegetarians eat only vegetables, then what do humanitarians eat?
-Vegetarians.
Have a question for Mr. Thinker? E-Mail them to [email protected]