Sporting With Egon
Created | Updated Mar 19, 2004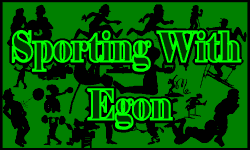 A cricketing capitulation even I didn't envisage, an Everton team beyond the dreams of optimists.
ASHES TO ASHES
I told you England wouldn't win the Ashes.
Admittedly, even I couldn't have predicted the orgy of injury, ineptitude and capitulation shown by the men selected to represent our nation at a sport we invented, against the best side in the world, in one of the world's oldest sporting contests.
Let me tell you something- test matches are supposed to last five days. Most cricket followers know this. No-one seems to have told the England cricket team. The first test in Brisbane was won by the Australians by 384 runs in four days as England collapsed to 79
all out in the second innings. The second test in Adelaide again lasted only four days, as England lost by an innings and 51 runs.
The final humiliation came last week at the WACA in Perth, as Australia ripped England apart one more time, winning by an innings and 48 runs inside three days, England's batsman being destroyed by the pace of Brett lee, Glenn McGrath and Jason Gillespie, bamboozled
by the leg-spin of the great Shane Warne, and there was even a wicket for batsman Damien Martyn.
England's defeat has been blamed on a number of factors, but if an honest assessment is required, it must surely be that our cricket team just pales into insignificance alongside the might of the Australians.
It is also my opinion (although admittedly I am far from expert) that Australian cricket is far more professional than the English game. Look at the English squad- Graeme Thorpe initially selected despite the fact that he turned his back on cricket for a while in the summer. His selection backfired as he dropped out, but it did at least allow for the selection of talented young Kent batsman Robert Key, who provided some hope for the future in this tour. The injury crisis is also symptomatic of an unprofessional approach to the game by the ECB 1. There was no way of legislating against the appalling career-threatening freak injury to fast bowler Simon Jones, nor the blow to the head suffered by Alex Tudor, but the inability of the likes of Andrew Flintoff and Darren Gough to stay fit must be blamed on the ECB. ECB Chairman Lord
McLaurin has tried to place the blame on Gough and Flintoff, but the fact that England have these players contracted makes them responsible for keeping their fitness levels up - irresponsible rushing back of these players in the summer has left them unfit and injury-prone. Other injuries have included Ashley Giles, who was hit on the wrist in the nets and injured his wrist as his new armguards hadn't arrived yet, Chris Silverwood, flown out as a replacement bowler for Jones, who injured his ankle during the only five overs he bowled, and Andrew Caddick, the aging fast bowler, missed the third test through
injury.
Players have also struggled with form, notably fast bowler Matthew Hoggard, although young fast bowler Steve Harmison had trouble with his run-up during the third test, but fortunately sorted it out.
The test series now takes a break for some one day matches, England, Australia and Sri Lanka all playing each other twice before the test series resumes on boxing day. England have called on some one-day specialists, including Durham all-rounder Paul Collingwood and
Worcestershire bowler Kabir Ali.
It is obvious that soon England are going to have to bring some young players in, the time for the likes of John Crawley is gone, ditto Alec Stewart and Andrew Caddick, and it's uncertain how much longer Nasser Hussein will remain as captain, with the end of next summer looking like it could be the end of his international career.
It is sad that the likes of Robert Key, Alex Tudor, Kabir Ali and Paul Collingwood appear to have been mere afterthoughts to replace injured players, when players like these are the future of English cricket. The time has also surely come for James Foster to permanently
replace Alec Stewart as wicketkeeper. This Ashes series so far has seen the old guard fail spectacularly. next summer will hopefully mark the start of a rebuilding process for English cricket, with a view to at least taking the Australians to five days in some tests. when they
come to England in 2005. We have lots of good young English talent- Ali, Collingwood, Harmison, Jones and Tudor joined on the list by the likes of Ian Bell, Rikki Clarke, James Anderson and Gareth Batty. Hopefully by the time the next Ashes series comes around these youngsters will have matured into a team capable of giving the Aussies a game. but they need to get some experience first.
EVERTON GET VERTIGO
Those of you who are regular readers of this column will be aware that I support the football team Everton. I started following the club closely in the early 90s, thus missing the glory days of the 1980s, and I have experienced years of skin-of-the-teeth avoidance of relegation, interspersed with the occasional decent finish and one FA Cup victory. Last March, David Moyes, a young Scottish manager, agreed to leave his post at Preston North End to become the new Everton manager after the sacking of Walter Smith (an old Scottish manager), and he has somehow changed the team from a makeshift bunch of journeymen into something special. his only major signings have been Goalkeeper Richard Wright and Defender Joseph Yobo, added to Li Tie, the surprise package from China, and young striker Wayne Rooney, and yet Everton recently went on a six-match winning streak in the league, beating champions Arsenal 2-1 and West ham United, Leeds United, Blackburn Rovers, West Bromwich Albion and Charlton Athletic, which led us to the brief dizzying heights of third in the premiership, now down to fifth.
EUROPEAN ROUND-UP
OK, Liverpool won in the UEFA Cup, Arsenal and Man U won in the Champions' league, and Newcastle took a tonking from Inter Milan, with Craig Bellamy being sent off and the ever irritating Alan Shearer suspended after the event for an elbow on Fabio Cannavaro which the referee missed at the time.
AMERICAN FOOTBALL
My opinionated, irreverent American Football correspondent Several aka Random is not contributing this week, but if you are as interested in the oval ball excuse for a sport as he is, then you may be interested in the h2g2 American football
forum It was set up by Bright Blue Shorts and offers a place for American football fans to discuss the past, present and future of the NFL, a result prediction game and an American Football Trivia Quiz. Even I hang out there, and I don't even understand the
bloody game.
In Several's absence, here's an update on the current standings:
AFC East: Miami and New England both have a 7-5 Won-Loss record, while
Buffalo and the New York Jets are both 6-6
AFC North: Pittsburgh are 7-4 with one tied game, Baltimore and Cleveland are both playing 6-6, while Cincinatti are the whipping boys, with a 1-11 record.
AFC South: Indianapolis are 8-4, Tennessee 7-5, Jacksonville 5-7 and Houston 3-9
AFC West: Oakland and San Diego both 8-4, Denver 7-5 and Kansas City
6-6
NFC East: Philadelphia re playing 9-3, New York Giants 6-6 and Dallas and Washington both 5-7
NFC North: Green Bay Packers (9-3) have already clinched the division title, with Chicago, Detroit and Minnesota all 3-9
NFC South: Tampa Bay are top with a 9-3 record, Atlanta just behind with 8-3 and one tie, New Orleans 8-4 and Carolina 4-8
NFC West: San Francisco 49ers are 8-4, St. Louis 5-7 and Arizona and Seattle are both playing 4-8
RUGBY UNION
The English Rugby union team are now regarded as the best in the world, after back to back victories over Australia, New Zealand and South Africa. The last of these was a particularly pleasing 53-3 walkover against a particularly vicious 2Springbok XV. So there is at least one sport England excels at, even if the cricketers and footballers have been embarrassing us lately.