The Post Quiz: Spot the Metal Band
Created | Updated Feb 19, 2017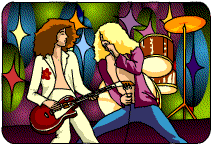 Spot the Metal Band Quiz
This week, we'll be wallowing in the delights of the Terpsichorean muse. Since ancient times, man has learned to bang things together and sing for entertainment. As the aeons passed, we have refined this into folk ensembles, classical orchestras and funky disco grooves (Note to self: get that thesaurus updated).
Yet one genre of popular music is trying its hardest to take us back to where it all began. The sights, sounds and songs are, in a word, protocultural. I'm talking about Heavy Metal. It all started in the early 1970s, they say, with bands like Black Sabbath and Led Zeppelin. Today's exponents of the genre are generally more discordant and horror-themed.
And so on to the quiz. You'll find 20 possible heavy metal bands listed below. Ten of them released new albums in 2016. The other 10 didn't, and they may not exist - I made them up. Can you spot the 10 genuine and active bands?
You'll find a link to the answers at the foot of the page, but no peeking until you've guessed them all!
Bands:
1. Anthrax

2. Blood Ceremony

3. Brain Drill

4. Car Bomb

5. Circular Saw

6. Dead By Wednesday

7. Decapitated Monk

8. Fleshgod Apocalypse

9. Four Norsemen Of The Apocalypse

10. Gouged Eyeball

11. Kylie Morgue

12. Nazi Death Fungus

13. Necroparty

14. Ringworm

15. Rotting Christ

16. Sinatra's Corpse

17. Suicidal Angels

18. Upon A Burning Body

19. Vidal Gore

20. Visceral Hump

All done? Click the picture for the answers.
Icy's Quizzes and More Archive